'Twilight' weighs on Hot Topic's January sales miss
By Nivedita Bhattacharjee

BANGALORE, Feb 3 (Reuters) - Hot Topic Inc (HOTT.O) missed same store estimates for the third month in a row as it continued to look for a replacement for its popular 'Twilight' franchise.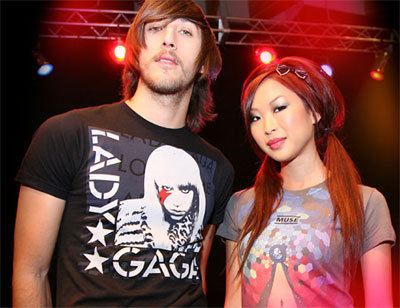 Photo: www.hottopic.com
This month, merchandise from the Twilight series was responsible for half the decline in comparable sales at its namesake division, a spokesman said in a pre-recorded call.
The company also said it will not sell DVDs of the sequel 'New Moon' as it would not be able to compete on pricing with big box retailers.
"If Twilight hadn't been there at all, their comps would have been down 8 or 9 pct," William Blair & Co analyst
Sharon
Zackfia said, pointing to the difficult year-over-year comparisons, due to the success of the franchise.
Hot Topic, which sells rock 'n' roll-inspired clothing as well as music and accessories to teenagers, was one of the few retailers that saw strong sales in 2008.
But more recently, the company has been under pressure to prove itself 'fashion-right,' and not just driven by the success of hot licenses.
"Such difficult comparisons, arising from success with the Twilight license, are being met this time with lower-tier licenses like 'Alice in Wonderland' and 'Percy Jackson'," Brian Sozzi, analyst with Wall Street Strategies said.
For January, the company reported a 13.1 percent drop in same-store sales and forecast fourth-quarter earnings at the low end of its previous outlook of 18 cents a share to 20 cents a share.
Analysts on average were expecting January same-store sales to drop 12.1 percent, according to Thomson Reuters data.
For the fourth quarter, the company reported total sales of $214.2 million, while analysts were looking for $215.9 million.
Shares of the California-based company were down slightly at $5.38 Wednesday 3 February after market. They closed at $5.40 on Nasdaq. (Reporting by Nivedita Bhattacharjee in Bangalore; Editing by Anne Pallivathuckal, Anthony Kurian)
© Thomson Reuters 2023 All rights reserved.