361 Degrees slips off early gains in HK debut
HONG KONG, June 30 (Reuters) - Chinese sportswear retailer 361 Degrees International (1361.HK) rallied about 19 percent before paring back gains in the afternoon session of its trading debut on Tuesday 30 June, weighed down by a fall in the broad market.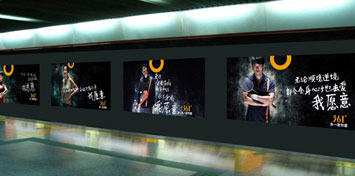 361° publicity campaign - Photo: www.361sport.com/ent
Analysts warned that it might be too early to read signs of a recovery in Hong Kong's IPO market, although they projected the second half of the year to show more proof of an impending turnaround.
The stock hit a high of HK$4.28 in morning trade then slowly slipped to HK$3.89 at the close, up 7.8 percent from its IPO price of HK$3.61.
The benchmark Hang Seng Index finished down 0.8 percent at 18,378.73, off a high of 18,883.24.
Aiming to raise funds to expand its retail network and raise brand awareness, the company's global offering of 500 million shares was oversubscribed, with an expanded 150 million shares offered in Hong Kong and 350 million allocated overseas.
"The stock did pretty well, in line with expectations. But fundamentally, 361 Degrees is an average stock," said Anita Hwang, analyst at Mirae Asset Securities.
Noting the share price pullback, Hwang said: "That happened a lot with many of the recent IPOs," explaining that recent share offers attracted liquidity in initial trade and then lost steam when company fundamentals came into focus.
The next IPO in the pipeline, shampoo maker Bawang International, could be a better market performer, based on oversubscriptions to the offering and the interest generated by its warrants in Singapore, she said.
Audit and professional services firm PricewaterhouseCoopers (PwC) said IPOs in Hong Kong would accelerate in the second half of the year, forecasting that IPO funds in 2009 could rebound to nearly HK$100 billion, after dropping 66 percent year on year to HK$17 billion in the first six months.
"We have seen an improvement in the second quarter of this year in the Hong Kong stock market, as money is flowing into stocks as the risk tolerance level steadily improves on the back of hopes for a recovery in the second half of this year," said Edmond Chan, partner at PwC.
"This will create a favourable environment for large Chinese enterprises to list in Hong Kong. The investment focus in the second half will be mainly in the sectors of infrastructure, retail, consumer goods and services, industrial and property-related," he said.
"But we are still not in a position to be overly optimistic over the medium to long term," he added. (Reporting by Nerilyn Tenorio; Editing by Chris Lewis)
© Thomson Reuters 2022 All rights reserved.