A new vice-president for Narciso Rodriguez Parfums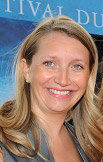 Léa Vignal-Kenedi
Beauté Prestige International (
BPI
) has named Léa Vignal-Kenedi as vice-president of
Narciso Rodriguez
Parfums. Running the brand, the young lady will be kept busy with the development of a new fragrance for women, expected to launch internationally in April 2009.
With a diploma from Paris Dauphine (Strategic Marketing), the young lady cut her teeth at Yves Saint Laurent Parfums before joining BPI in 1998.
Arriving from the export and operational marketing department, Léa Vignal-Kenedi is working with the brand Jean-Paul Gaultier again, where she was group leader and manager of the section responsible for Axe products, before taking the job in marketing at Narciso Rodriguez in March 2007.
By Jonathan Fulwell (Source: Céline Vautard)
Copyright © 2023 FashionNetwork.com All rights reserved.