A third hotel in the works for Christian Lacroix
In Paris, after the Petit Moulin (3rd) and the Hôtel Bellechasse (7th), the designer Christian Lacroix is starting work on his third hotel. This one will be near Notre-Dame, more precisely on the Quai Saint-Michel.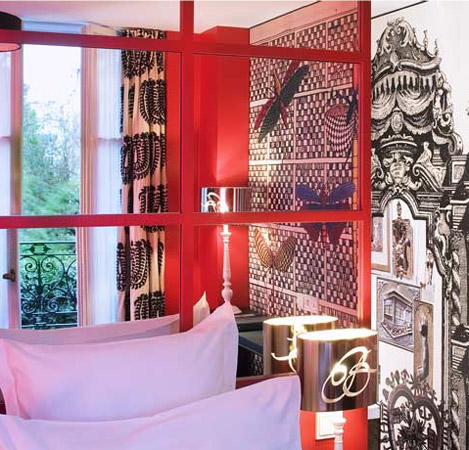 One of the rooms in the Hôtel Bellechasse decorated by Christian Lacroix
Even if for the moment no information has been given regarding the style and date of the opening of the establishment, the kick-off of work was made public. The new hotel should be along the same lines and the other two already designed by Christian Lacroix.
A lover of colour, prints and a mixture of styles, the designer knows more than anyone how to mix contemporary, neoclassical, baroque and more. He likes to imagine a "journey within a journey", to use his own words.
Endowed with a protean talent, Christian Lacroix has the ability to light up everything he touches. Who knows which currently slumbersome building he will be regenerating and breathing new life into.
By Jonathan Fulwell (Source: Julie Mangaud)

Copyright © 2023 FashionNetwork.com All rights reserved.