Aficionados shop for world's most exclusive watches
LONDON (Reuters Life!) - Collectors gathered on Monday 29 June to shop for some of the world's most unique watches in an event organized by a group of blogging enthusiasts.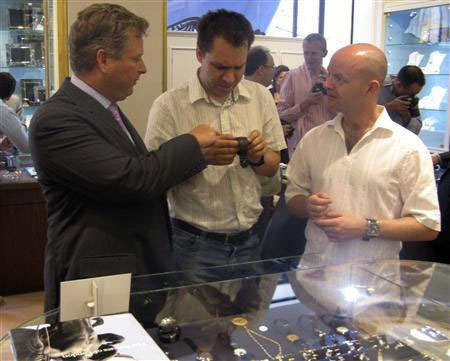 William Asprey (L), owner of William & Son luxury boutique, shows exclusive watches to collectors in London June 29, 2009 - Photo: REUTERS/David Broug
Dozens of watch aficionados came from around the world to William & Son, a luxury boutique in London's elegant Mayfair district, to admire the world's most exclusive watch specimens, with some on offer at well over 100,000 pounds ($165,000) each.
The typical ultra-wealthy buyer of exclusive brands such as De Bethune, F.P. Journe, Romain Gauthier and Moser, has "graduated" from major watch brands like
Rolex
and
Omega
and now seeks something rarer, collectors attending the event said.
"The watches collector has a Bentley in his garage and a Picasso on his wall, but when he walks into the office, he wants to wear something unique, a work of art," said David Witkover, North American agent for Swiss-based De Bethune.
"It is understated elegance."
He showed off the platinum-cased De Bethune Dream Watch 1, featured as "Best of the Best" in the June edition of luxury magazine the Robb Report.
The $123,600 DW1's balance wheel is made of silicon ringed with platinum, an innovation delivering high performance.
FINE WATCHES, FINE WINES
Nicolas Fondaneche of PuristSPro.com, which showcases blogs on top watches and helped organize the event, said collecting superb watches is similar to connoisseurship of fine wines.
"When you begin to try wine, you may love it, but you can't tell the difference between a 50-euro wine and a 5,000-euro wine," he said.
The global recession has hit demand for exclusive timepieces, but serious collectors will never lose interest, and it is up to manufacturers to price watches competitively, said Daniel Zimmermann, sales director of H. Moser & Cie.
"The market place has become more difficult," he said.
"The previous two years (of boom) were crazy," he added, in a reference to the spending spree led by finance industry professionals before the banking crisis hit hard.
William
Asprey
, owner of William & Son, which has emerged in the decade since luxury group Aspreys was sold, demonstrated watches owned by him and his forebears, including a gold
Patek Philippe
pocket watch, a 1920s Reverso that belonged to his grandfather, and a 1960s
Audemars Piguet
skeleton watch.
These were not for sale, but caught the collectors' eye.
Collectors are looking for distinctive design and feel.
"I used to fall in love with a picture of a watch, and when I saw it I was disappointed," said Mo Coppoletta, a collector from Italy. "The feel, the balance, the dimensions of a watch are very important -- and the design."
Serious addicts can buy an Object of Time, a large cabinet revealing revolving watches, with a cigars compartment, drinks cabinet and temperature gauge -- and a hand-wound central clock with eight days' power reserve.
(Reporting by David Brough; editing by Paul Casciato)
© Thomson Reuters 2023 All rights reserved.