Asia's couture craving feeds Singapore's haute hopes
SINGAPORE (Reuters Life!) - Legions of status-seeking shoppers with deep pockets are turning Asia into the next big catwalk for international designers, boosting Singapore's aspirations to become the region's Milan or New York.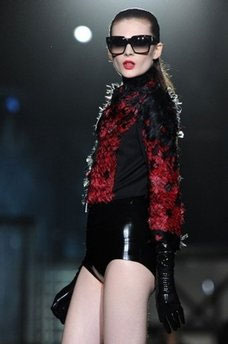 DSquared, a label that recognises the potential of Asian markets - Photo: AFP/Christophe Simon
Asia's growing economic clout -- and the millions willing to spend top dollar on luxury lifestyles -- were the buzz words at Singapore's fashion festival, an annual event the country hopes will eventually become as important as counterparts in the United States and Europe, as well as the fashion gateway for the region.
"Western designers have realized there's a great deal of money to be had in Asia and they can see that customers in China and India are moving very quickly toward becoming consumers of the very highest level," Colin McDowell, creative director of the Audi Fashion Festival, told Reuters.
"In Paris, several designers told me that the Chinese have become their biggest couture customers. This is a new departure."
As the rest of the world still recovers from the global financial crisis, consumers in several economically robust Asian nations, including Singapore and China, are spending on luxury goods like the downturn never happened.
A recent study by market research firm Synovate dubbed China's consumers as the "new world order," with those in the top-tiers seen as hooked on the latest fashion trends and many believing that famous brands, and money, equal success.
Splurging on luxury goods is a treat often indulged in, the study of 68,000 people across 66 Chinese cities found, while a smaller survey by MasterCard showed many Asians were determined to keep on spending on fashion, gourmet food and luxury goods.
AFFLUENT SINGAPORE
While Hong Kong and Shanghai are seen as China's fashion capitals, affluent Singapore, with its plethora of luxury shopping malls and avowed aim to attract Asian millionaires and their money, is jostling to become the first place designers come to access the market.
Several high-end fashion and jewelry labels have recently set up shop in Singapore, home to the world's highest density of millionaires and a popular Southeast Asian shopping destination.
"There's tonnes of potential here, tonnes," Dean Caten, of designer duo DSquared2, told Reuters about Asian markets.
"They love fashion here, they live it, it's a rich economy, they're very status conscious. That's great news for designers," added his twin brother and partner Dan Caten.
It was standing room only at the opening gala of the fashion festival as DSquared2, who have dressed an impressive line-up of stars including Madonna, Justin Timberlake and Bill Kaulitz of band Tokio Hotel, showed their Autumn/Winter 2010 collection.
Other designers who will show at the April 28-May 2 event include KTZ, Herve Leger, Tiffany, House of Holland and Roberto Cavalli, who brings a collection specially created for Singapore.
The shows are one aspect of Singapore's inaugural Asia Fashion Exchange (AFX), a platform that includes Blueprint, a showcase for designers from across the region with international buyers from retailers such as Harrods and Liberty's.
The Caten brothers described AFX as a great starting point that puts Asian cities on a good track, while the fashion festival's McDowell said the world can longer afford to ignore Asian designers.
"Western fashion is getting tired, it's going around in circles, it needs new direction, new ideas," he said.
"I believe the rules of fashion will be dramatically rewritten in the next 15 years, and this part of the world will be part of spearheading this change."
(Editing by Ron Popeski)
© Thomson Reuters 2023 All rights reserved.