Athens riots kill Christmas for many Greek shopowners
By Dina Kyriakidou and Tatiana Fragou
ATHENS (Reuters) - Greece's weekend riots destroyed about 130 shops in Athens's commercial center and owners of surviving businesses say a Christmas season already overshadowed by global economic crisis may be lost to them altogether.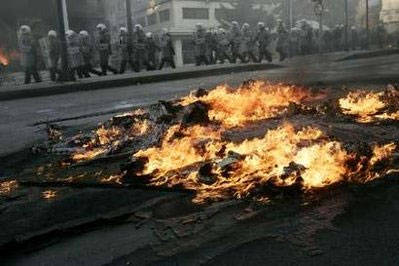 Riot policemen walk next to burning barricades during riots in Athens
Photo : John Kolesidis/AFP
Christmas lights were up, shop windows were decorated and the municipal band was about to launch the festivities when the violence erupted, triggered by the killing of a youth by Athens police. The mayor has postponed festivities.
The Athens Shopowners Association told a news conference members needed immediate support to weather the crisis, asking for loan and tax payments to be suspended among other measures.
"I have asked the Economy Minister to explore all possibilities so that we can immediately and completely compensate citizens for damage suffered," Prime Minister Costas Karamanlis said in a televised statement.
Charalampos Xilouris, CEO of Sprider Stores, whose three-storey building at the end of Ermou street was completely destroyed, said December was a lost month.
"This doesn't happen in a civilized society," he added.
Protesters angry at the boy's shooting late on Saturday clashed with police and rampaged through Athens, destroying banks, shops and torching cars. There was no official estimate of the damage, expected to come to millions of euros.
LINGERING SMOKE
Smoke still lingered on Athens's main shopping thoroughfare, a long pedestrian alley across from parliament, usually busy with shoppers, mime artists and street peddlers. A fire engine and private security men stood guard.
"There is a serious psychological impact on the market," said Vasilios Lianos, 52, a contractor supervising workmen at women's clothes shop Ysatis, which suffered major damage. "We are racing against time to catch up with the holiday season."
Several shops appeared completely destroyed and others had windows smashed. Assistants in those that were spared said very few customers had ventured in.
"The government is only good with words, not actions," said Athanasios Ikosipentaris, 56, sitting at a cafe looking at his two-floor women's clothes shop, Marnik, which was destroyed. "All they want is taxes for stock that has already been burned."
New taxes announced in early September added to public discontent with the conservative government's economic policies as the global crisis reaches Greece. The country's economic output growth is expected to slow to around 2 percent in 2009 from 4 percent last year.
"Nothing can justify this death. On the other hand, there is no excuse for sentencing 150 citizens to financial death," Ikosipentaris said.
(Writing by Dina Kyriakidou; Editing by Ralph Boulton)
© Thomson Reuters 2023 All rights reserved.