Back to roots is latest trend for jeans
PARIS, Dec 9, 2007 (AFP) - Scraped, torn, creased, frayed, stained, sprayed and mended: never will jeans, the 150-year apparel now the planet's most popular clothing, be as battered and bruised as the models due to hit stores in 2009.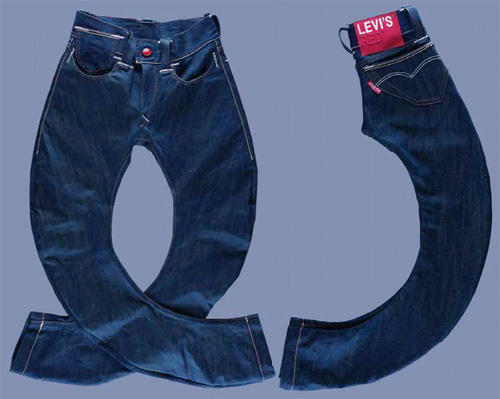 Levi's Red fall-winter 2007/2008 Bowleg and Bella
After a couple of seasons of smooth flat hues and textures, jeans are set for a total "vintage" revamp harking back to their 1850s worker roots, say makers of the denims and accessories that go into producing the best of the world's top-end brands.
"Authentic vintage is the new trend," said Massimo Minari, style guru for Italian denim specialists Rad Rags, at this week's first-ever gathering of the denim-to-jeans industry in the world's fashion capital.
Woven from cotton grown as far afield as Zimbabwe, Turkey or China, more than three billion metres (yards) of denim each year go into producing some 1.7 billion pairs of the emblematic blue pants that first emerged as tough long-life work-wear for miners and railroaders in the U.S. in the 1850s.
A consistent weekend or worktime favourite in the following decades, jeans became flavour-of-the-day with 60s hippies and despite hitting ups and downs in boutiques sales since, have never truly faded from the fashion scene.
James Stewart, James Dean, and more recently Brad Pitt in T-shirt and jeans in 1991 Oscar-winner "Thelma and Louise," have underscored jeans as sex symbol supremo. "My only regret? Not to have invented the jean," once said couture king Yves Saint-Laurent.
Today, technological advances in spinning, weaving, and in the multiple treatments inflicted on brand-new jeans can make pants to be stacked on shopshelves sometime down the road look authentically 10 years old.
"Distressing pants so they look naturally aged is extremely difficult," said Patrice Chesi of the Tunisia-based Confection Ras Jebel denim company. "That's what our business is all about."
Jeans are aged only once stitched together, and the business "is one of the most creative value-added sectors in the fashion world," said Philippe Pasquet, director of this week's trade pow-wow (Denim By Premiere Vision) attended by suppliers of such brands as Dolce and Gabbana, Diesel, Guess, Versace and Pepe Jeans.
"From the first pants until the 1980s, production was almost unchanged," said Jose Luis Zabaleta, sales manager for one of the world's largest weavers, Spanish-Brazilian firm Tavex Algonodera, with 250 million metres of denim per year.
"But pre-washed jeans in the 1980s opened up infinite colour possibilities and led to the technological transformation of the sector," he added.
Changes in threads and weaving meant a greater range in the weight of fabrics and styles, while new dyes also led to more variety. "Then came 'stretch', opening up new doors in the world of women's fashion and technological changes that allowed us to mix fabrics, including linen for lighter jeans," he said.
"Today we're back to vintage, back to the roots," Zabaleta said. "We're offering stained denims that look really worn."
Italian designer Minari said leaving damp jeans out for several days during manufacturing caused moss that gave the fabric a rusty sheen.
Japan's Collect Co. Ltd from Okayama, viewed as one of the world's most exclusive denim-weavers and supplying for brands such as Comme des Garcons and Tsumori Chisato, uses Yamaha machines 50 to 100 years old and cotton from Zimbabwe to produce a "very strong and very soft" fabric, said Katsuhito Manabe.
It even opts for natural indigo rather than chemicals to colour some fabrics, a process that can take up to two months, he said.
In Italy, which over the last couple of decades has become the hub of the denim-laundering business, in which jeans are washed and worked over, Maurizio Amati, a director of Nuova Lac SpA, described the dozen or more processes, some of them manual, needed to produce a properly faded, frayed, stained and ripped pair of pants.
It was at Nuova Lac in the 1960s that iconic French jean-makers Marithe and Francois Girbaud developed stonewashing, throwing river-stones into a washing-machine to wear the jeans, a method still practised but now with softer pummice stones.
Concerned by the impact on the environment of the chemicals used to produce jeans as well as water wastage, Girbaud told AFP that his new lines were being faded almost white by laser.
"We made mistakes in the 1960s without meaning to," he said. "It's time to repair them. Hundreds of millions of pairs of jeans are treated across the world according to a principle we invented. We hope the industry again will follow our lead and save millions of tonnes of water."
As to the future, Zabaleta, whose company has plants on three continents, said jeans had plenty of growth potential. "They'll remain fashionable and look at markets where there's still space -- India or Pakistan."
Said French jean guru Girbaud: "Paris fashionistas like to wear black, but the rest of the world wears blue."

by Claire Rosemberg
Copyright © 2023 AFP. All rights reserved. All information displayed in this section (dispatches, photographs, logos) are protected by intellectual property rights owned by Agence France-Presse. As a consequence you may not copy, reproduce, modify, transmit, publish, display or in any way commercially exploit any of the contents of this section without the prior written consent of Agence France-Presses.