Bargain hunters offer little relief to Europe's retailers
LONDON - A brisk start to post-Christmas sales in some European countries is unlikely to save retailers from more profit warnings and insolvencies as cash-strapped shoppers are only being tempted to open their purses by margin-crushing discounts.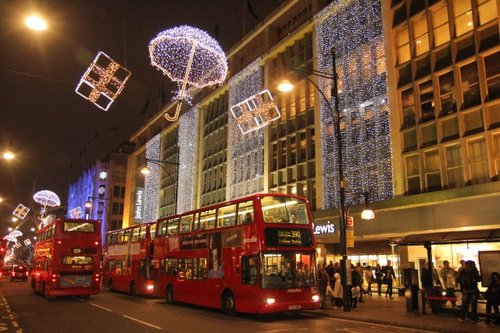 Oxford Street, London / Photo: Corbis
Crowded stores in major economies like Germany and Britain will ease fears the euro zone's debt crisis could see consumers across the region cut back on everything other than essentials.
But analysts warn Europeans, who are seeing their disposable incomes squeezed by rising prices, muted wages growth and austerity measures, are only being persuaded to spend by price cuts of up to 70 percent that are erasing margins.
"Interest in the sales could fall away pretty quickly once the best of the bargains have gone," said Howard Archer, chief UK and European economist at IHS Global Insight.
"This would put pressure on retailers to cut prices even more, thereby further hurting their margins."
And with trading still deteriorating in debt-laden countries like Italy and Greece, there is a risk conditions could get worse across the continent if policymakers don't make a decisive breakthrough in restoring confidence in the region's finances.
Greece's ESEE retail federation estimates sales plunged a jaw-dropping 30 percent year-on-year in the run up to Christmas.
"Next year will be even more challenging for European retail. Virtually all of the negative headwinds that have blown in during the second half of 2011 will persist, and could worsen, for at least the first half of 2012," said Simon Chinn, lead consultant at retail research group Conlumino.
NOT A DISASTER...

The vast majority of European retailers have yet to report Christmas sales figures, but anecdotal evidence suggests they will not be the disaster some had feared after Germany's
Metro
, the world's fourth-biggest retailer, issued a profit warning in early December.
Germany's HDE retail body told Reuters it expected Christmas sales to have risen about 1.5 percent on the year before and be followed by healthy clearance sales.
"Customers were in the mood to shop, both at our outlets and our online shops, especially in the last week including Christmas Eve. And now, after Christmas, we are seeing very high footfall as well," said German books to perfumes retailer
Douglas
in comments emailed to Reuters on Thursday.
In Britain, bellwether department store group
John Lewis
also reported a late surge in pre-Christmas spending, while data from market researchers Experian suggest shopper numbers have held up after Christmas, with over 700 people queuing from 0230 GMT outside the Bluewater shopping centre east of London on Dec. 26.
However, analysts note December sales numbers will be flattered by abnormally weak figures last year, when much of Europe was blanketed in snow, and that big price cuts mean retailers will not feel the benefits at the bottom line.
"Consumption did not collapse," said Mariano Bella, head of research at Italian retail group Confcommercio, which forecasts average spending fell by between 1 percent and 5 percent in the crisis-hit country in December.
"But retail margins are falling," she added.
This could lead to insolvencies in a sector which has already seen a string of failures in recent years, including
Woolworths
in Britain, Arcandor in Germany and Onoff in Sweden.
"The New Year will trigger a round of retail insolvencies which will continue into 2012 and may outstrip the peak recorded in 2008," predicted London-based turnaround specialist RCapital.
...YET

Retailers are hoping that easing inflation, coupled with one-off events like the Euro 2012 soccer tournament and the Olympic Games in London, will help to boost spending in 2012.
But retail research groups Verdict and SAS see little improvement, at least in the first half of the year, forecasting retail sales in Britain will grow by just 1.2 percent in 2012, the third lowest figure in the last 40 years.
Official post-Christmas sales have yet to start in some European countries like Belgium, where regulations restrict sales to Jan. 3-31. The signs, though, are that retailers there are also struggling with piles of unsold stock, due to mild weather as well as a cautious consumer.
"There's a lot more on the shelves this year," said Sven Nouten, a spokesman for NSZ, an organization of independent Belgian retailers, pointing to a survey showing 64 percent of clothing and shoe shops have more stock to sell than in 2010.
The trend in countries at the centre of the debt crisis also suggest the worse could be still to come.
"Next year will bring a deepening of the downturn in a market that is already on its knees," Vassilis Korkidis, chairman of Greece's ESEE retail body, told Reuters, predicting only a brief respite in clearance sales from Jan. 15 to Feb. 29.
Italy, which saw consumer confidence drop to a 16 year low in December after a swingeing austerity package, could be heading the same way.
Consumer group Codacons expects Italians to spend 40 percent less in January than the year before.
© Thomson Reuters 2023 All rights reserved.