Billionaire retailer Green shops for a bargain
By Mark Potter
LONDON (Reuters) - Retailer Philip Green has made billions by spotting bargains and putting his own money on the line. Now he is looking for a deal to take control of swathes of Icelandic investor Baugur's shopping empire.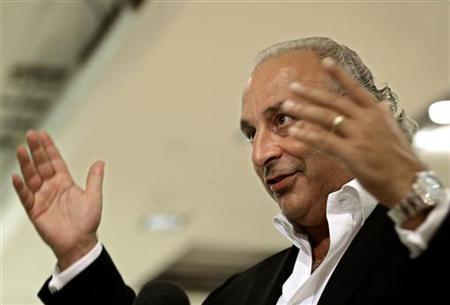 Green, who already owns fashion chain Top Shop and department stores operator Bhs, said on Saturday he was in talks with Baugur, Icelandic banks and the government of the crisis-hit north Atlantic island to take on much of Baugur's debt.
This could give him effective control of Baugur's retail empire, which includes fashion brand Karen Millen, House of Fraser department stores and Hamley's toy store, and seal his status as undisputed king of Britain's shopping streets.
Green told Reuters he would use his own money to take on what is estimated to be over 1 billion pounds of debt, not for the first time putting his own cash on the line.
Most famously Green has tried, and failed, twice to buy landmark British clothing and foods group Marks & Spencer, each time offering to foot some of the bill himself.
The second offer, pitched at 400 pence a share, confirmed his eye for a bargain. Within three years Marks & Spencer (M&S) shares, under the stewardship of rival Stuart Rose, hit a record high of 759 pence.
M&S was the one that got away. But plenty of other struggling businesses have been bought at cut prices and turned into big money-spinners by the 56-year-old who, according to the Sunday Times' Rich List for 2008, is Britain's ninth wealthiest man with a fortune of over 4.3 billion pounds.
Green's first million came from buying failing fashion chain Jean Jeannie. He negotiated a repayments freeze with its main banks while he turned the business around and eventually sold it for a big profit.
His biggest success so far proved to be buying ailing department store chain Bhs for 200 million pounds in 2000, putting up about a quarter of the money himself. Within two years the group was making a profit almost the same size as the purchase price.
In 2002 he snapped up Arcadia, the fashion group that houses Top Shop, Dorothy Perkins and Burton. Three years later that business paid him a dividend of 1.2 billion pounds, the biggest payout to an individual in British corporate history.
Now his companies account for over 2,500 of the stores on Britain's shopping streets and malls.
Green left school at 15 and never went to formal business school. But he is prepared to put his own money into teaching the others the secret of his success as a major sponsor of further education establishment The Fashion Retail Academy.
He has also lavished money on family and friends.
For his 50th birthday he flew around 200 guests in a chartered Boeing 747 to a hotel in Cyprus for a three-day toga party, where they were serenaded by Tom Jones and Rod Stewart.
In May 2007, after the disappearance of British girl Madeleine McCann in Portugal, Green also donated 250,000 pounds as a reward for any useful public information.
(Editing by Greg Mahlich)
© Thomson Reuters 2023 All rights reserved.