Bloomsbury seeks fresh magic in Harry Potter's wake
By Gavin Haycock
LONDON (Reuters) - Harry Potter publisher Bloomsbury has been inundated with orders for the final installment about the boy wizard and hopes a book on billionaire investor Warren Buffett will become one of its new best-sellers.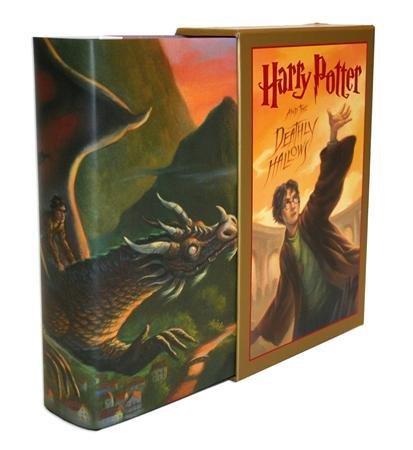 Demand for British author J.K. Rowling's "Harry Potter and the Deathly Hallows" is buoyant ahead of the publication of the seventh installment about the Hogwarts' hero on July 21, London-based Bloomsbury said on Thursday.
Export pre-orders for the Potter book are 17 percent higher than total export sales for the previous installment. Speculation has been rife about who dies in the final book after Rowling said at least two characters would be killed off.
Bloomsbury is getting ready for life after Potter in a drive for acquisitions and by signing up more best-selling authors, as well as deeper involvement in digital media. It has high hopes for the Buffett book.
Buffett, the chairman of Berkshire Hathaway Inc, has risen to global fame. His investment successes and his chatty annual letters have earned him the nickname "The Oracle of Omaha."
Bloomsbury said it had won the English language non-U.S. publishing rights to a book on Warren Buffett's investment strategies and philosophy it hopes will become a best-seller next year.
"The Snowball," a book being written by Alice Schroeder, a former insurance analyst, about the U.S. investor is scheduled to be published in May 2008.
"Our expectation is that it could become the No.1 best-seller in the UK and Australia because you get Buffett's condensed wisdom on investing," Bloomsbury Chairman and CEO Nigel Newton told Reuters.
Buffett has since 1965 transformed Berkshire from a failing textile maker into a $167 billion company with such businesses as Geico car insurance, Dairy Queen ice cream and Fruit of the Loom underwear, and investments including American Express Co., Coca-Cola Co. and Wells Fargo & Co..
Forbes magazine in March estimated Buffett's net worth at $52 billion. Last June, Buffett pledged 85 percent of his net worth to the Bill & Melinda Gates Foundation and four family charities. He has said all his Berkshire shares will go to philanthropies
The release of the Buffett book is timed to coincide with the weekend of the annual shareholders' meeting held by Berkshire Hathaway Inc.
Bertelsmann's Bantam Dell Publishing won the rights to publish the book in the United States.
Newton declined to say how much Bloomsbury paid for the rights other than to note it was "a lot."
POTTER'S MAGIC SPELL
Bloomsbury has enjoyed phenomenal success with the Harry Potter series. The last installment is in big demand.
Online retailers such as Amazon.com Inc. and bookstore chain Barnes & Noble Inc. have enjoyed strong advanced sales of the final book.
First sales figures after publication were likely within a week of the new book hitting stores.
In October, Bloomsbury will launch boxed-set editions of the entire Potter series with the paperback edition of the last book due around July, 2008.
Bloomsbury said it had 24 bestsellers worldwide so far this year, including the No.1 UK best-seller "A Thousand Splendid Suns" by Khaled Hosseini.
The company's profits in the year to end-December fell to 5.2 million pounds from 20.1 million a year ago, a drop underscored by there being no Potter paperback title last year.
Numis media analysts said they were keeping their 'hold' recommendation on Bloomsbury, partly due to uncertainty about how the group diversifies beyond the Potter franchise.
Bridgewell Securities' said the company's reference rights deals also have the potential to help restore ground lost by last year's profit warning.
Bloomsbury has recently signed long-term reference rights deals with Oxford University Press, Microsoft and historic information business ProQuest covering online versions of publications such as "Who's Who" and Web-based reference databases.
© Thomson Reuters 2023 All rights reserved.