Britain to push India to open up retail sector
Jan 17 - Britain will press India to open up its lucrative retail sector to foreign firms like Tesco, Business Secretary Vince Cable said on Monday, a day before he was scheduled to meet officials in New Delhi.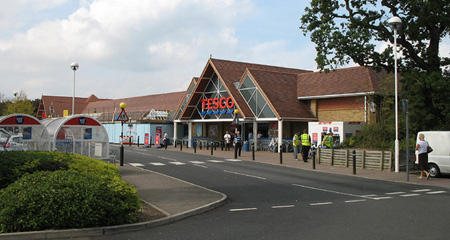 Tesco in Hertfordshire, England (photo by Martin Addison)
India's $450-billion retail sector is largely shut to foreign firms and is dominated by small family-run stores. But nudged by firms like
Wal-Mart
Stores and
Carrefour
, New Delhi has taken baby steps in liberalising the sector.
"I will make the case for an open market (in retail)," Cable told Reuters Insider television in an interview. "We welcome Indian companies in the UK. We hope India will welcome British companies in India."
But Prime Minister Manmohan Singh's government may find it difficult to relax rules despite its reformist intentions, given that its energies are focused on firefighting several crises including a raft of corruption cases and soaring food prices.
While advocates of the move say foreign investment in retail will improve supply chain efficiency and ease food inflation, critics worry opening up the sector could see millions of job losses among small shopkeepers who form an important voter base.
In October, Wal-Mart Chief Executive Mike Duke said he was "very positive" on the opening up of the sector, after he had met officials in India.
The US firm has a cash-and-carry operation with local partner Bharti Enterprises. Carrefour in December opened its first cash-and-carry store in India.
MORE BILATERAL TRADE
Cable, visiting India six months after Prime Minister
David Cameron
's trip, said bilateral trade between the two nations was not up to potential and had to grow.
"Although Britain has a very long-standing link with India, I think we accept that we've underperformed in terms of the Indian market. India is a very rapidly growing economy and we should be building our profile here," Cable said.
UK-India trade in 2008/09 stood at $12.5 billion, a sum tinier than what Britain trades with Ireland, a country with 4 million people to India's 1.2 billion.
(Editing by C.J. Kuncheria; Editing by Toby Chopra)
© Thomson Reuters 2022 All rights reserved.