British retailers set to lose millions after riots
August 10 - British retailers face tens of millions of pounds in costs and losses following rioting, looting and arson across and beyond London, and the impact on smaller businesses could be terminal, retail representatives warned.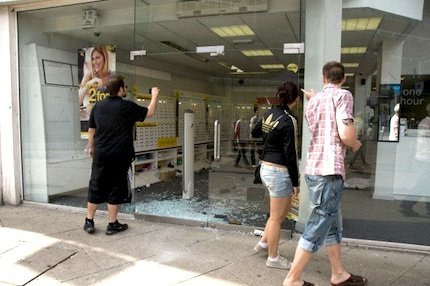 Onlookers take photographs of a shop window which was smashed during the riot. Looting took place in Wood Green following the evening riots in Tottenham with shops including HMV and Body Shop being broken into by rioters. - photo: corbis
"It will amount to tens of millions of pounds in terms of damage to property, goods stolen, and of course lost business," Richard Dodd, head of media at the British Retail Consortium told Reuters on Tuesday.
In a statement, the BRC, which represents about 90 percent of retailers, called for urgent action to help shopkeepers protect property, as well as assurances that the police would use "robust" tactics to close down situations and ensure offenders were "suitably punished".
London has seen the worst violence in the capital in decades in recent nights, with the unrest spreading to other cities like Birmingham and Liverpool. A stretched police force has been criticised for its apparent inability to cope and reluctance to use heavy tactics .
Dodd expressed concern over the impact on retailers, who are already struggling to cope with dire economic conditions.
"Many retailers were under quite a lot of pressure anyway, particularly some of the smaller independent ones who haven't got big national resources to draw on, and undoubtedly in some cases it won't be viable for them to start up again," he said.
Sportswear and electrical goods stores were particularly targeted by the looters.
"As has been well publicised, a number of JD stores have been affected by the disturbances in London and other parts of the UK over the past few days," said sports good retailer
JD Sports
, adding it was too early to assess the full extent of the damage.
Comet, the loss-making electricals chain owned by Kesa , said several stores across London had been hit, while Dixons , which owns Currys and PC World, said "a number of stores had been affected to varying degrees".
Food and drink stores were also among those affected. Baker Greggs said two of its London shops had been damaged.
"Our shop in Peckham was next to a building that caught fire. We think it's pretty much ruined as a shop. Another, in Ealing, was looted," Chief Executive Ken McMeikan told reporters on a conference call.
McMeikan added that a Greggs driver had been assaulted while making a delivery.
Britain's biggest retailer
Tesco
said several stores in London and other cities had been affected by what it described as "criminal gangs of looters and arsonists", but all except one store in Liverpool had re-opened Tuesday morning.
"We will cooperate fully with the police in bringing these criminals to justice," the company said.
Grocer
Sainsbury
said 16 of its stores were impacted by serious incidents.
Stores were closing early across London on Tuesday afternoon as a precaution against a feared return of trouble.
The Association of British Insurers (ABI) said it expected the rioting to cost insurers "tens of millions of pounds".
Singer Capital Markets analyst Matthew McEachran said he expected the retail sector to be impacted this month but noted that August is quiet for the sector as many people are away on holiday.
"You've got the market turmoil to throw into the picture as well," he said.
Retailers were not the only businesses affected by the unrest. Pubs firm JD Wetherspoon said its Great Harry pub in Woolwich, south London had been burnt down during the disturbances and several other pubs had been closed.
(Reporting by Matt Scuffham, Julie Crust, Sarah Young, Lorraine Turner, Paul Sandle, Myles Neligan; Writing by Matt Scuffham and Rosalba O'Brien; Editing by Hans-Juergen Peters)
© Thomson Reuters 2022 All rights reserved.