Burqa losing favour as Afghan women opt for chador
HERAT, Afghanistan (Reuters) - Nehmatullah Yusefy's burqa sales have dropped 50 percent since the Taliban were toppled in 2001 and he says he will soon need to start stocking other styles of Islamic dress to make up for lost profits.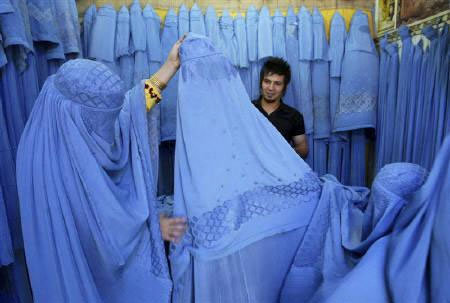 An Afghan woman looks at merchandise at a burqa shop in Herat in western Afghanistan - Photo: REUTERS/ Mohammad Shoiab
Yusefy has sold the powder blue garb, which covers women from head to foot, for the past ten years. It was mandatory attire for women during the austere rule of the Islamist Taliban.
But he has done so reluctantly.
"I think, God willing, the sales of burqas will decrease, then I will sell chador namaz and even maybe mantau chalvar," Yusefy said, standing behind the counter of his small outlet on a strip of burqa shops in the main market of Herat city.
The chador namaz is a long, billowing dress in black or sombre-patterned fabric which is widely worn in Iran. It exposes the woman's face but covers the rest of her head and body until her ankles.
Mantau chalvar is a long coat worn over trousers and it is popular with women in the capital Kabul, who are comparatively more free to dress as they choose. It is always worn with a scarf covering the head that is tied firmly under the chin.
Last week French President Nicholas Sarkozy condemned the burqa, saying it was not welcome in France because it was a symbol of subjugation of women.
"We cannot accept that some women in our country are prisoners behind a grille, cut off from social life, deprived of their identity," he said amid calls by some lawmakers to ban the burqa in France.
The chador namaz, which is open at the face, with its edges loosely hanging down the centre of the body, may be more welcome on the boulevards of Paris.
"I hope, God willing, that things in Afghanistan will progress more, that people will be more open-minded and more sensible, so that a woman, a sister, a mother, can go about the market freely," Yusefy said, adding that he has never demanded that his own wife and two daughters wear the burqa.
Yusefy, who sells between five and 15 burqas a day, plans to eventually branch out to the increasingly popular chador namaz, which exposes the face. He hopes to double his clientele and sales by catering to this growing market.
The chador namaz is worn by about half of Herat's women.
While no one in Kabul would bat an eyelid at the sight of mantau chalvar, in Herat it still turn heads. For many, even the chador namaz is seen as pushing the envelope.
I CAN'T BREATHE
In the gardens of the shrine of a revered sufi poet, cousins Margol and Amirejan Abdulzai chatted together as they walked among rose bushes and marble tombstones.
Margol has lifted her burqa over her head for now because she can relax a bit more in the enclosed and quiet space. Amirejan wore a black chador namaz decorated in swirling white flowers.
"When I wear a burqa it gives me a really bad feeling. I don't like to wear it. My family are not really happy with me wearing a chador namaz, they tell me to always wear a burqa. But I don't like it, it upsets me, I can't breathe properly," 18-year-old Amirejan said.
Margol, who is in her early 20s, said that she was used to the burqa now, having worn it since she was about 15. Her family prefers her to wear it and does not approve of her walking the streets with her face on display.
"My family says I have to wear it, they say the chador namaz is bad. You understand that if you don't wear a burqa and your face is open, people will just gossip about you," Margol said, giggling.
"But it does give me bad headaches, it puts a lot of pressure on my head, especially if it's sewn too tightly," she added.
Her cousin Amirejan said she would rather wear a mantau chalvar and discard her chador namaz if it was left up to her.
"Now they say that Afghanistan is free and women should be able to breathe more, but no, your mother, auntie and family still tell you that you have to wear the burqa ... I just don't like it, I like to be free, not under a burqa."
Back at his shop, Yusefy considered the idea that wandering male eyes might be the reason why women feel compelled to wear the burqa.
"Yes, men shouldn't look, maybe it is their fault for looking," he said. "If a woman comes to the market without covering up about one hundred pairs of eyes will be watching her ... because that's the climate here."
But don't men need something to cover their eyes to stop them from looking at women?
"Well, no, you can't stop them. Men are always going to stare. It's culture, the culture is different, every country is different."
He removes a burqa from a metal hook on his shop wall and turns it inside-out to show the crotchet panel covered with a translucent blue fabric through which many Afghan women see the world.
"Look at this, there is a very good view from inside there."
By Golnar Motevalli
© Thomson Reuters 2023 All rights reserved.