Buyers expect '70s influence at NY Fashion Week
NEW YORK (Reuters) - Rich colors, refined styles and 1970s minimalism are likely trends at New York Fashion Week, U.S. department store buyers say as they look for clothes to entice wary consumers amid a fragile economic recovery.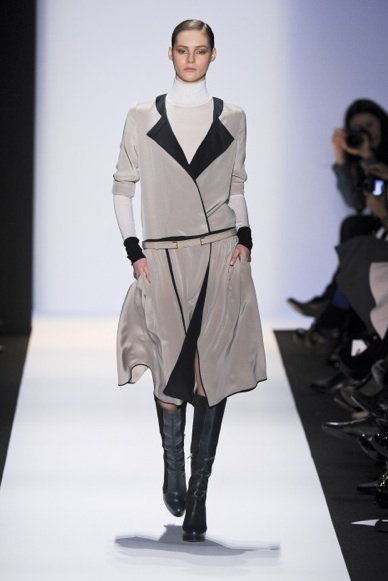 BCBG Max Azria - AW 2011 / Photo: Pixel Formula
Americans are shopping more but remain cautious, demanding value for money from retailers and designers after the worst financial crisis in decades, said buyers from top department stores Barneys, Neiman Marcus and Nordstrom.
Rising commodity prices, in particular with cotton prices hitting record levels, also will likely trickle through to higher costs for clothes this year, experts said.
New York Fashion Week began on Thursday with 89 designers due to show their fall and winter collections for 2011. It is followed by fashion weeks in London, Paris and Milan.
"As the economy slowly recovers we're seeing customers returning to the stores but they're certainly very careful about what they're buying," said Neiman Marcus fashion director Ken Downing. "We're not going to see customers shopping with the abandon that they were before the recession."
Spending by consumers, which accounts for about 70 percent of the U.S. economy, has not recovered from the downturn as unemployment hovers at 9 percent and many Americans struggle with high household debt.
"We're in that post-recession hangover period and I think everyone's a little nervous about saying, 'OK, it's over,'" said Catherine Moellering, executive vice president of fashion retail consultants Tobe.
But she added: "There are a lot of consumers who are ready to buy.
"This notion of pent-up demand is real now and consumers are feeling like they deserve to shop. They have been holding back and they're ready to purchase."
RISING PRICES?
But with a frail economic recovery and supply fears fueling record cotton prices, Moellering said increased costs were likely to hit consumers later in the year.
Designers and retailers would need to give them a good reason to purchase, she said.
Among the trends buyers expect to see gracing the runways in New York during the next week are high-waisted full-leg trousers, knee- to calf-length and pleated skirts and evening fabrics such as velvet and silk satin used for day wear.
"We will still see a '70s mood with wider pants cuffed and fluid blouses," said Barneys chief merchant Daniella Vitale. "A minimalist mood initiated by (designer French label) Celine still exists."
The growing 1970s influence follows a retrospective of the late French designer Yves Saint Laurent in Paris last year.
Fall and winter 2011 colors are likely to be deeper with all the shades of red, from bright to Bordeaux, cranberry and plum, Downing said. "Think wine and rose."
Experts also predicted various shades of green and expect winter white to replace camel as a key neutral.
"Designers are fashion historians and make subtle references to the past so retro-feminism should move forward, allowing our customer to embrace her ladylike side," said Nordstrom fashion director Gregg Andrews.
"We are seeing a renewed sense of optimism from our customers and American designers," Andrews said.
(Editing by Mark Egan, Ellen Wulfhorst and Bill Trott)
© Thomson Reuters 2022 All rights reserved.