Can Singapore be a new catwalk for global fashion?
SINGAPORE (Reuters Life!) - London. Paris. Milan. New York. And maybe Singapore? The Asian nation is pitching itself as the newest destination for international and regional fashion designers to showcase their collections.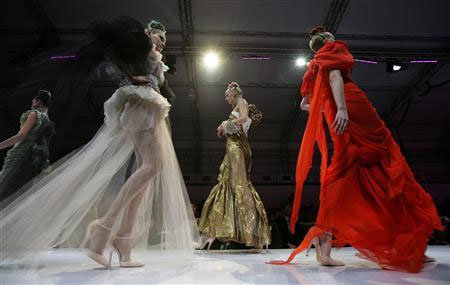 Models present creations from the Christian Lacroix Spring/Summer 2009 Haute Couture collection at the Audi Fashion Festival in Singapore May 6, 2009. REUTERS/Vivek Prakash
And the dire state of the global economy may be a factor helping Singapore's aspirations, fashion experts say.
"There are lots of very, very, very rich people in this part of the world, and what the recession has done is just knock off one 'very'," said Colin McDowell, a renowned British fashion writer and stylist who is also creative director of the Audi Fashion Festival Singapore, the year's premier event.
"Fashion needs the very, very rich," he told reporters. "And with its rich artistic tradition and huge creative potential, the future of fashion can be in Asia and if there's going to be a core leader, it could be Singapore."
McDowell, who is senior fashion writer for London's Sunday Times, said when he came to Singapore several years ago, he had thought it "a tad complacent."
"But Singapore is the only Asian city that looks Western, where English is widely spoken and that is a big advantage," he said. "If Singapore wants, it can be part of the fashion scene."
Asian economies have been hit by the global crisis, but that has not prevented Singapore, an island nation of nearly 5 million, from courting the region's wealthy with a global gourmet gathering, luxury boat show and now the fashion festival.
Christian Lacroix
,
Vivienne Westwood
,
Marc Jacobs
,
Gareth Pugh
and Singapore-born Ashley Isham are the main international designers showing at the event. Several Singaporean designers will also take part.
The Lacroix couture collection was launched on Wednesday night at an event full of women dressed in designer gowns and dripping with diamonds.
"Singapore's not high on the totem pole of a lot of top designers but we're building stepping stones," said Tjin Lee, managing director of organizer Mercury Marketing&Communications.
"We want Singapore to be the place where designers such as Lacroix, such as Pugh, can reach out to the whole region. We want it to be the place that Asian designers, too, can flock to, and be showcased by the international media," she told Reuters.
Lee expected some 6,000 people to attend the festival, adding that the 600 tickets offered to the public had been sold out, despite the tough economic climate. The festival, however, has been shortened to five days from 10 in previous years.
"Previous festivals have been commercially driven, but we're hoping to inspire and entertain this time," she said. "People need to go out and see art, experience beauty."
Pugh, a rising talent with sometimes experimental designs, also said the recession was the best time to get creative.
"People with money want to spend it on something special, they want to wear something unique, which is great for designer fashion," he said.
(Editing by Sugita Katyal)
© Thomson Reuters 2023 All rights reserved.