Canada premiers call for ban on seal hunters using clubs
By David Ljunggren
OTTAWA (Reuters) - High-profile protests against Canada's annual seal hunt would be less effective if hunters were banned from clubbing the animals to death, say two leading Canadian provincial politicians.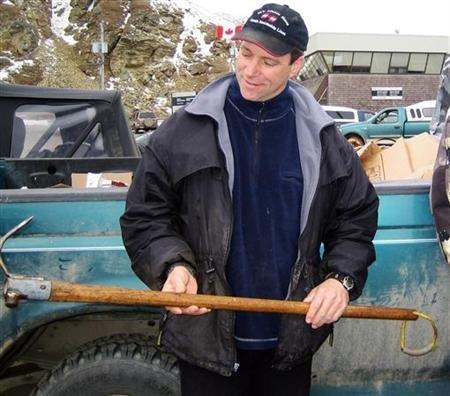 Ottawa will allow hunters to kill 275,000 young seals on ice floes off the eastern coast this year.
Although most animals are shot, some are killed by blows from large spiked hakapik clubs. Animal rights groups often use graphic pictures of the clubbing as part of their campaign to ban the hunt altogether.
Danny Williams, premier of the Atlantic province of Newfoundland and Labrador, called for the hakapik to be banned. He said this might persuade the European Union to ignore pressure to ban the import of seal products.
Hunters and rights activists both said on Wednesday that they were opposed to the idea.
Williams acted after a delegation from Newfoundland and the Arctic territory of Nunavut -- where seals are also hunted -- visited several EU countries.
"Within each (European) country the use of the hakapik was a dominant issue and continues to be viewed in an extremely negative manner," he said in a statement issued jointly with Nunavut Premier Paul Okalik.
"(We were) told repeatedly that a ban of this tool may prove to dispel some of the negative opinions regarding the Canadian seal harvest ... This is an opportunity to disarm (decision makers) of something that is used negatively against our sealers."
The seals are hunted for their fur, meat and oil, which is rich in omega 3 fatty acids.
Fisheries Minister Loyola Hearn declined to comment.
Paul Lamoureux, who recently stepped down as the head of a sealers' association in the province of Quebec and is still involved in the hunt, said a survey of hunters last year showed that 96 percent wanted to keep the hakapik.
"It's probably the most effective tool for killing animals in a humane fashion ... there's a very small risk of missing the animal," he told Reuters from the Madeleine Islands in the Gulf of St. Lawrence, where the first stage of the hunt takes place in late March.
Sealers also like the hakapik because they can use it to haul themselves onto the ice if they happen to fall into the water, he added.
A leading animal rights activist was equally dismissive of the proposal by Williams and Okalik.
"It's a very cynical and poorly conceived ploy to make the hunt appear more humane but it won't work," said Rebecca Aldworth of the Humane Society of the United States.
She told Reuters that if the hakapik were banned, hunters would no longer be able to finish off wounded seals with blows from a club.
"If you remove the club from that equation you're forcing sealers to cut open conscious animals ... this suggestion will do nothing but increase the cruelty of the hunt," she said.
(Reporting by David Ljunggren; Editing by Peter Galloway)
© Thomson Reuters 2022 All rights reserved.