Canadian retailers seen as prime takeover targets
TORONTO, March 27 - Well-known Canadian clothiers Le Chateau (CTUa.TO), Jacob and Reitmans (RET.TO) could become takeover targets as a wave of U.S. retailers follows Target Corp's (TGT.N) lead and seeks opportunities north of the border.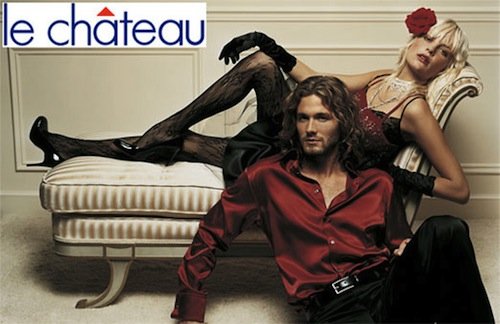 Canadian retailer, Le Chateau
There are plenty of reasons why Canadian retailers have become so appealing: the country's robust retail market, a healthy economy, proximity to the huge U.S. market, a common language and lower valuations of Canadian companies.
But why does a U.S. retailer need to acquire a Canadian chain to set up shop? The scarcity of real estate in big Canadian cities makes takeovers of companies with ready-made store locations the surest route for foreign entrants.
That was the rationale of Target in January when the No. 2 U.S. retailer announced a C$1.83 billion ($1.87 billion) deal to take over Canadian leases on up to 220 Zellers stores owned by Hudson's Bay Co, North America's oldest company.
The move signaled growing interest by U.S. companies in the Canadian market, where No.1 Wal-Mart Stores Inc (WMT.N) has had a large presence for nearly two decades.
"Competitors always react to another's movement and this was a pretty significant move on Target's part," said Ken Tuchman, vice-chairman of investment and corporate banking at BMO Capital Markets.
"Other U.S. retailers may begin thinking, 'Are we just going to cede the country to Target, or are we going to explore similar opportunities?'" Tuchman said.
"You're seeing more and more interest in Canadian retail M&A."
Tuchman declined to speculate on which Canadian companies may be for sale.
FROM TARGET TO TARGETS
Sources contacted by Reuters said potential targets might also include clothier Tristan and sporting goods chain Forzani Group (FGL.TO).
Clothier Le Chateau explored strategic options a few years ago and Jacob is a women's fashion chain that filed for bankruptcy protection last year.
"There's got to be consolidation there (in apparel) as large chains are taking market share," said Ed Strapagiel, executive vice-president at retail consultancy KubasPrimedia.
"So you have to look around and say, what are some of the smaller fashion stores going to do about it?"
When Wal-Mart entered the Canadian market in 1994, it did so through the acquisition of about 120 Woolco stores from Woolworth Canada. Best Buy Co Inc (BBY.N) acquired Future Shop in 2001.
So it's no surprise that Minneapolis-based Target, known for its cheap but chic merchandise and with more than 1,700 stores in 49 U.S. states, chose to mirror that strategy.
"Once you get a couple of deals going, everybody gets interested and looks and says, what is there to buy?" CIBC analyst Perry Caicco said.
"The gates have opened" for U.S. retailers to enter the country, he said.
Among the large U.S. retailers without a presence in Canada are J.C. Penney (JCP.N), Kohls (KSS.N), Walgreen (WAG.N) and Macy's (M.N).
"If you want to enter Canada with any kind of scope, scale, if you want to have a critical mass, you will probably have to make a strategic acquisition," Edward Jones analyst John Sheehan said.
"Good quality real estate in Canada is hard to come by," he said. "The Canadian market has a lot less square footage per capita compared to the United States."
BUY OR BUILD
Probably the name most often mentioned as a possible target among Canadian retailers is Dollarama (DOL.TO), the discount dollar store that went public in Toronto in 2009 and is valued for its growth prospects. It is also part of a sector that is already undergoing consolidation.
Last year, Dollar Tree Inc (DLTR.O) bought Canada's Dollar Giant Store Ltd, including leasehold rights.
"For anybody to come into Canada and play the dollar store, Dollarama is the target," said Versant analyst Neil Linsdell. "Obviously you have to pay up for it, but there's no one else that gets you that scope in Canada."
Linsdell said it would be more likely for a private equity firm to buy Dollarama than a strategic buyer like Dollar General (DG.N) or Family Dollar (FDO.N).
Private equity firm Bain Capital owned a majority stake in Dollarama at the time of the IPO but has since trimmed it.
Analysts say bigger Canadian firms like Shoppers Drug Mart (SC.TO) and Hudson's Bay Co could also be attractive to large U.S. firms seeking Canadian takeout targets, although there is little clarity about who the buyers might be.
Acquisitions have not been the only mode of expansion, though. Those that wish to take the slower, longer route can afford to try to develop their own sites, often with a partner.
Firms that have chosen to grow gradually include Gap Inc (GPS.N), Hennes & Mauritz (HMb.ST), and Zara, owned by Spanish clothing giant Inditex (ITX.MC).
While there is debate about who might be taken out, one company that most agree is not on that list is Lululemon Athletica Inc (LLL.TO). Canada's hottest clothing retailer, which has seen its stock price more than double in the past year, is probably too expensive.
($1=$0.98 Canadian) (Reporting by S. John Tilak and Pav Jordan in Toronto, Mark Potter in London, Jessica Wohl in Chicago; editing by Frank McGurty and Rob Wilson)
© Thomson Reuters 2023 All rights reserved.