Cannes sobers up for low-frills festival
CANNES, France, April 20, 2009 (AFP) - Sparkling wine instead of champagne, onion tart for foie gras: Cannes is preparing for a bling-free film festival next month as the movie industry sobers up in tune with the global downturn.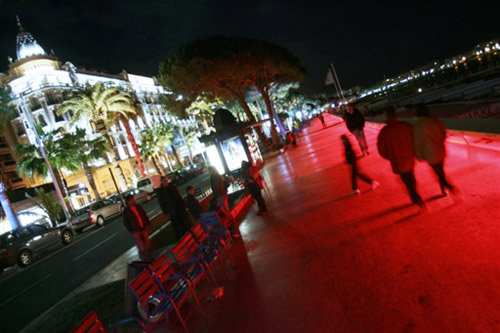 People walking on the Croisette illuminated like a "red carpet" in Cannes during the opening of the "Plan Lumière" on the celebrated boulevard - Photo : Valery Hache/AFP
"We're experiencing an unprecedented world crisis and it's also affecting the Riviera and Cannes," said Michel Chevillon, head of the hotel association in the Mediterranean city, gearing up to host the 62nd edition of the festival.
Star power and prestige have helped Cannes limit the damage compared to some other big industry events.
Crisis or no crisis, the usual cast of A-list stars, hot directors and Hollywood studios are jetting in for the top international film showcase on May 13-24, the world's biggest media event after the Olympic Games.
But belt-tightening is in the air, with industry players trimming back on the number of delegates, champagne-fuelled parties and expensive extras.
"Companies are sending fewer people, for shorter periods," Chevillon said.
Jacques Dessange, the official Cannes hairdresser, is bringing 15 stylists instead of the 20 who curled and pressed the locks of the stars in 2008, and has slashed its budget by 20 percent.
And cosmetics giant L'Oreal has called off its annual ad campaign on the front of the Hotel Martinez, a seafront Art Deco palace where its ambassadors, including Indian megastar Aishwarya Rai, stay for the festival.
Right at the top end of the hotel business, the 412 rooms of the Martinez -- including its sumptuous penthouse suite -- have been fully booked since February for all 12 days of the festival.
Two clients have paid an eye-popping 36,000 euros (47,000 dollars) a night, against 10,000 euros off-season, to share the panoramic sea views and exclusive rooftop jacuzzi of the penthouse, as big as four tennis courts.
"It's business as usual," said the Martinez' manager Richard Schilling.
But lower down the chain, the bulk of the Cannes hotel industry is feeling the effect of the downturn, forcing them to offer perks like unlimited WiFi access, happy hours at the bar or free breakfast to attract customers.
Seventy percent have frozen their room rates compared to last year, and many are taking bookings for less than the full 12-day period, something normally unheard of at festival time, Chevillon said.
-- There's a lot less demand for yacht rentals --
-------------------------------------------------
At Cannes' prestigious old port -- while all 60 berths for mega-yachts are booked up -- brokers are struggling to find third party companies willing to charter the boats for entertainment.
"There's a lot less demand this year for yacht rentals and a lot of pressure on prices," said Valerie Ruiz at the broker Ashore, which rents out yachts up to 60 metres (200 feet) long on behalf of their multi-millionaire owners.
On the Cannes party scene, budgets are being trimmed back, as the industry backs off from the flashy expense usually laid out to woo clients and contacts.
US magazine Vanity Fair is cancelling its star-studded annual party, a staff member said, while the VIP nightclub Jimmy'z lost two key sponsors -- the Fendi fashion house and Swarovski crystal -- at the last minute, and Louis Vuitton is skipping the annual AmFar AIDS charity fundraiser.
"People are afraid it will hurt their image to be seen in a place associated with wealth," explained the deputy mayor of Cannes, David Lissnard, who said British and American companies were especially wary.
"Some reckon it's in bad taste to flash their wealth at a time like this -- that it's hip to run your PR for peanuts," agreed Michel Ernest, a third-generation Cannes caterer.
"This year most are asking for menus with pissaladiere (a local onion tart) instead of foie gras," said Ernest, many of whose smaller clients are asking him to root out a good sparkling wine or rose as a substitute for Champagne.
Festival president Gilles Jacob has said even visitor numbers could be slightly down next month, for the first time in years.
The French state also chose this year to cancel its 72,000-euro subsidy for the event, which although a fraction of the overall budget of 10 million euros, has added to the more frugal climate.
But festival insiders insist it is not all bad news, and suggest a less glitzy atmosphere could be good news -- bringing the spotlight firmly back onto the essential: the films themselves.
"Let's hope that by doing away with some of the 'bling bling' we'll get back to a more relaxed and friendly atmosphere," said Ernest.
Also on the up-side, a more relaxed climate could spell a treat for film fans -- with less frenzied competition from the crowds to catch a glimpse of Brad Pitt or Quentin Tarantino.by Audrey Stuart
Copyright © 2023 AFP. All rights reserved. All information displayed in this section (dispatches, photographs, logos) are protected by intellectual property rights owned by Agence France-Presse. As a consequence you may not copy, reproduce, modify, transmit, publish, display or in any way commercially exploit any of the contents of this section without the prior written consent of Agence France-Presses.