Caris starts US youth specialty-apparel retailers
May 6 (Reuters) - Caris and Co began coverage of the U.S. youth specialty-apparel retail sector with a positive view, and said spending on apparel for teens and children is expected to suffer less than apparel spending on adults.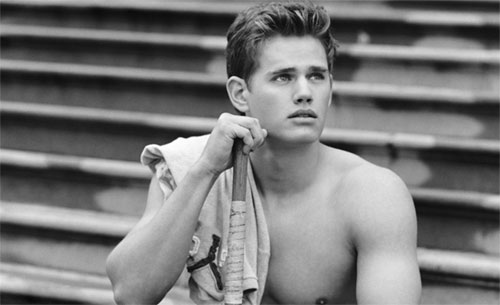 Abercrombie & Fitch Menswear Publicity
"Deep discounting continues at the mall, but retailers are getting better prepared to weather the storm and appeal to more value-minded consumers, with the potential for upside to sales and earnings expectations in the second half of 2009," the brokerage said in a note to clients.
Retailers' inventories should be closer in line to sales and planned promotions should help support healthier margins, Caris said.
Consumers have shifted their mindset to focus more on value, and "are likely to maintain a tighter hold on their wallets even as economic conditions ease," the brokerage said.
"We see consumers continuing to favor those apparel retailers offering the right combination of fashion and value and shunning those where the perception of value is not high."
The brokerage said Abercrombie and Fitch (ANF.N), which avoids offering discounts, would likely see its sales continue to drop and its margins erode, dragging down earnings.
Gap Inc (GPS.N) "could be at last on the verge of a product turnaround," the brokerage said.
"We believe more compelling and better targeted assortments, at price points that should appeal to today's penny-pinching consumers, should get traffic back to its stores, boosting sales and earnings," Caris said.
A new baby boom should continue to benefit children's apparel retailers such as Gymboree Corp (GYMB.O) and Children's Place Retail Stores Inc (PLCE.O), the brokerage added.
The following table lists the companies on which the brokerage initiated coverage and their ratings: COMPANY RATING Gap Inc (GPS.N) Above Average Abercrombie and Fitch Co (ANF.N) Below Average Aeropostale Inc (ARO.N) Above Average American Eagle Outfitters (AEO.N) Buy Children's Place Retail Stores Inc (PLCE.O) Above Average Gymboree Corp (GYMB.O) Buy Pacific Sunwear of California Inc (PSUN.O) Average Zumiez Inc (ZUMZ.O) Average (Reporting by Sumedha Mukherjee in Bangalore; Editing by Anne Pallivathuckal)
© Thomson Reuters 2023 All rights reserved.