Carnaby Street celebrates 50 years of style
By Kylie MacLellan
LONDON (Reuters) - Carnaby Street, epicentre of Britain's Swinging Sixties revolution and spiritual home of fashion milestones like the miniskirt, is marking half a century of trend-setting.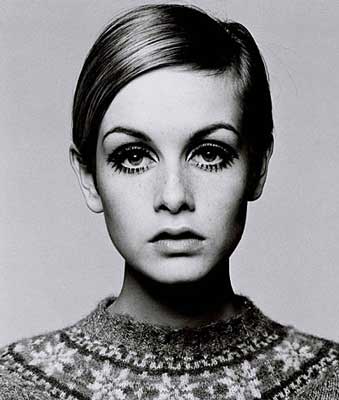 Twiggy, star model of the 60's
Once home to a pest house for plague victims, the iconic street has had a long and varied history, but it was its influence on fashion, music and youth culture in the 1960s that first propelled it onto the world stage.
A place where unique design and independent boutiques rub shoulders with the flagship stores of international brands, Carnaby Street remains one of London's best-known shopping destinations 50 years on.
"If it was just like another high street it wouldn't be so interesting," said 1960s photographer Philip Townsend, whose subjects have included The Rolling Stones and model Twiggy.
"You get small firms that are having a go just like we did in the 60s ... That is why I think it has kept its appeal."
Townsend's work features in a free exhibition, "Carnaby Street: 1960-2010," which opened on Friday 26 February and is part of a series of events this year to celebrate the fashion, music and history of the 12 streets which comprise the Carnaby area.
The exhibition centres around a three dimensional timeline -- featuring an assortment of objects including drawings, magazine covers and vinyl records -- which illustrates the key people and events in the area's transformation from little more than a field with a disused windmill 500 years ago.
Housed in a vacant shop at number 38, it also features a selection of clothes, such as a psychedelic paper mini dress from the late 60s, which provide a glimpse of how Carnaby Street's style has evolved over the decades.
A short film of archived footage, projected onto a whitewashed brick wall, transports visitors back to the sights and sounds of the street in its 1960s heyday.
FLAMBOYANT FASHION
It was the arrival of entrepreneur John Stephen, a charismatic Scotsman credited with introducing hipster trousers and floral patterned shirts, which first established the street as the home of flamboyant male fashion, targeting affluent teenage consumers.
"Carnaby Street became a new space for fashion in the 1960s," said one of the exhibition's curators, fashion historian Amy de la Hay. "What was unprecedented was the fact that it was aimed specifically at teenage youth and it was aimed at men."
"But because the designs were so innovative and so extraordinary and weren't available elsewhere, you also got celebrities and pop stars coming to buy them as well so it was this incredible exciting atmosphere of a mix of people."
In 1973 the street, through which as many as 4,000 cars would pass in a day, was pedestrianised and paved with bold, multicoloured rubber tiles. Since removed, the striking pattern has been recreated on the floor of the exhibition.
Townsend, whose favourite photo of the street features two smartly dressed men in bowler hats, said the combination of fashion-conscious shoppers and celebrities alongside ordinary people using the street as a thoroughfare gave it a unique feel.
"The Beatles, the Rolling Stones and all the other bands just used to walk around the streets without security," he said.
Just minutes from Oxford Street and Piccadilly Circus in London's west end, the area remains a popular draw for both tourists and local shoppers seeking out the kind of individual, original creations that first made it so famous.
"A lot of people know what Carnaby Street is about and they want to come and visit it," said Jo Kromidias, 31, who used to work in a shop on the street. "It has got a really good vibe."
(Editing by Steve Addison)
© Thomson Reuters 2023 All rights reserved.