Cashmere specialist Cucinelli launches roadshow
MILAN - There could not have been a more fitting place for Italian businessman and occasional philosopher Brunello Cucinelli to kick off the pre-listing roadshow of his eponymous clothing company than a former Dominican convent.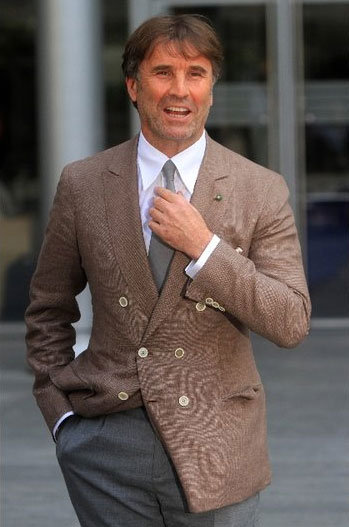 Brunello Cucinelli
Citing Saint Benedict's "work and pray" motto, the founder of the exclusive cashmere specialist said on Monday he hoped to raise about 150 million euros to open his company to the world and bring "well-being and human dignity" to its shareholders.
"I want shareholders to become the custodians of this company," Cucinelli told reporters at Milan's Diocesan Museum.
Cucinelli, whose 2,000-euro cashmere jumpers are worn by Prince William and Hollywood stars such as Demi Moore, is attempting to list a third of its shares on the Milan stock exchange.
Its founder, who turned a small hilltop town near Perugia into a factory where workers are served generous three-course meals for lunch and walls are adorned with quotes from Aristotle and Saint Augustine, said he would use the proceeds of the public offer to open stores in exclusive locations in Europe, America and Asia.
"We want to go to China with our European culture, our Italian taste," he said. But the group will stick to a "gentle, sustainable" pace, he added.
"A product that is distributed too widely is a product that becomes less interesting," he said, citing French luxury group Hermes as a model of the gentle pace of expansion he would emulate.
Cucinelli's IPO is also an expression of confidence in the crisis-hit Italian bourse after the success of Ferragamo's listing last year and the loss of fashion house Prada to an Asian listing in 2011.
"Italy is too often denigrated, but there are so many opportunities today," Cucinelli said.
"It's like in 1530, when merchants came back from the Americas with new products, tomatoes, potatoes and maize. We're going through a similar phase today."
Asked about the timing of the IPO, which comes as Italy's bond and stock markets go through a period of renewed volatility, Cucinelli said he was unfazed by the markets.
"We're not interested in what the bourse will do in the next seven or ten days, but in what it will do in the next three to five years," he said.
Cucinelli posted 2011 net sales of 243 million euros and core earnings of 40 million.
The company's shares will start trading on May 3. Mediobanca and BofA Merrill Lynch are global coordinators on the deal.
© Thomson Reuters 2023 All rights reserved.