Catalan designer Toni Francesc to have catwalk show in New York
MADRID, 25 July 2009 (EFE) – The Catalan designer Toni Francesc will have a fashion show in September 2009 in New York's fashion week, where he will present his creations for the spring-summer 2010 season for the first time.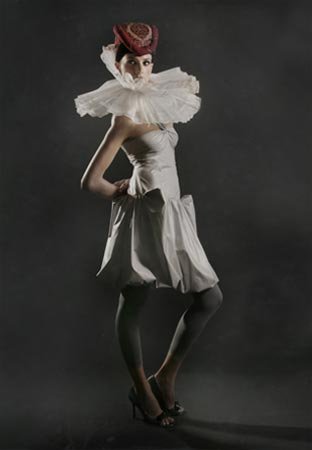 An outfit from Toni Francesc's line from last year - spring-summer 2009
The directors of the New York fashion week, the "Mercedes-Benz Fashion Week", selected the Spanish designer to participate in the next edition of the event, considered as one of the most important and prestigious in the world of fashion, that will be held between the 10th and the 17th of September.
Toni Francesc will present his spring-summer 2010 collection in the final catwalk show of Tuesday 15 September, bringing the day to a close in Bryant Park, the official setting of New York fashion week's catwalks.
This event, whose roots can be traced back to the first "Fashion Press Days" held in 1943 in New York, has seen regular catwalks from the big players in the world of fashion such as
Oscar de la Renta
,
Ralph Lauren
,
Carolina Herrera
, Donna Karan,
Michael Kors
,
Marc Jacobs
,
Calvin Klein
,
Narciso Rodríguez
, Hervé Ledger and many other international designers.
As well as having shown his designs back in February at the Madrid Cibeles Fashion Week, Toni Francesc has also been present for the last two years on various international catwalks such as in the Cyberpot Center in Hong Kong, the Fashion Week in Mexico – where he has been a regular exhibitor, and Russian Fashion Week, the most important fashion event in Russia.
His presence in the official programme of the "Mercedes Benz Fashion Week" in New York is an important step in the Catalan's career, as well as for Spanish fashion as a whole.
By Jonathan Fulwell (Source: EFE)
© EFE 2023. Está expresamente prohibida la redistribución y la redifusión de todo o parte de los contenidos de los servicios de Efe, sin previo y expreso consentimiento de la Agencia EFE S.A.