Celebrated British jeweler quits London's Bond St.
LONDON (Reuters Life!) - The luxury London jeweler which created British artist Damien Hirst's diamond-encrusted skull and provides jewels to the royal family is moving house.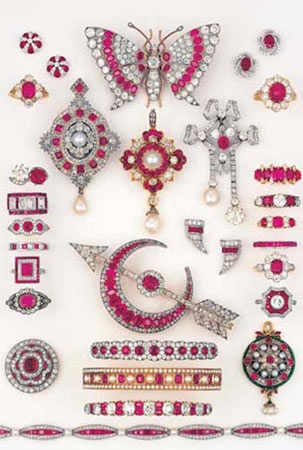 Ruby jewels at Bentley & Skinner - Photo: www.bentley-skinner.co.uk
Bentley & Skinner, renowned for its ties to Britain's royal family and art elite, has said goodbye to London's Bond Street, having resided since Victorian times in Britain's premier jeweler quarter.
After its lease owned by Graff Jewelers expired, Bentley & Skinner moved to take the largest shop in the
Burlington
Arcade, which dates from the Regency period, just down the road in Piccadilly in the elegant Mayfair district.
The shop, which has two Royal Warrants signaling its status as a jeweler and silversmith to British royalty, is stuffed full of treasures such as a rare Art Deco platinum and diamond
Cartier
brooch, an Art Nouveau dragonfly brooch dating from circa 1895, and a Faberge thermometer from the 1890s, which is on offer for 150,000 pounds ($240,000).
A prized item is an extremely rare Art Nouveau necklace from artist-jeweler Rene
Lalique
, in aquamarine and enamel, available for 165,000 pounds.
Bentley & Skinner was commissioned by Hirst to create a life-sized diamond encrusted platinum skull, which sold in 2007 for $100 million amid massive publicity.
The company also stocks more affordable pieces such as its own range of engagement rings starting at 1,000 pounds ($1,600), and has its own workshop in Burlington Arcade.
"
Woody Allen
just recently filmed scenes from his latest movie here," senior sales representative Alessandro Borruso said. The film will star Antonio Banderas and Naomi Watts.
Graff Jewelers, who were targeted in Britain's biggest ever jewelry heist when two armed men snatched $65 million of their jewelry and watches on August 6, are expanding into the former Bentley & Skinner premises on 8 New Bond Street.
The robbery has shocked the jewelry trade in London. Jewelers have called for beefed-up policing.
"You have to be as vigilant as you can. It reminds you that when something like that happens, there was very little the security could have done," said Bentley & Skinner's spokeswoman Sophie Wooton.
(Reporting by David Brough; editing by Paul Casciato)
© Thomson Reuters 2023 All rights reserved.