China helps Italian menswear makers snub doomsayers
MILAN - A rise in menswear sales to Chinese consumers will give Italian designers Roberto Cavalli and Dolce & Gabbana a lift when they kick off the 2012 fashion season on Saturday.
The luxury industry, resilient but not immune to crises, has tempered its optimistic growth forecasts for this year after consumer spending slowed in crisis-hit Europe before Christmas.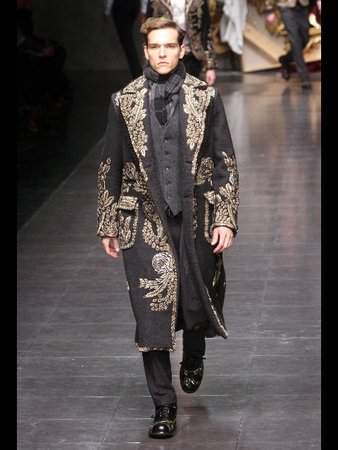 D&G - Photo: Ansa
However, fashion retailers foresee a less severe impact from a recession than in 2009, after widening entry-price offers and trimming costs. Top brands such as Prada and Salvatore Ferragamo have continued to open stores in Asia.
"To make predictions now is not only difficult, but also dangerous: the risk is to create self-fulfilling prophecies, no matter how good or bad they are," Michele Tronconi, president of Italy's textile body Sistema Moda Italia (SMI) said this week.
Dolce & Gabbana, who show on Saturday, are folding their high street consumer D&G line into their top-named brand, which will now sell all their products from glamorous evening dresses to D&G-branded T-shirts.
"When we started out in 1984 there was the crisis, in 1990 there was the crisis, then in 2000... but we try to ride it and we want to be able to offer different, quality things at the right price," Stefano Gabbana told WWD last month.
Sales of Italian fashion, worth 52 billion euros ($66.54 billion) in 2011, are expected to grow by 6 percent in the first half of 2012, SMI said.
The trend looks stronger than in the second half of last year, but weaker than last spring, when the industry was still enjoying a healthy rebound from the 2009 meltdown.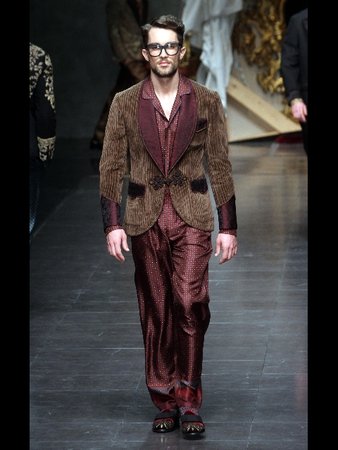 D&G - Photo: Ansa
Asian and Russian buyers, increasingly at home in the narrow fashion streets of Milan, helped lift sales of Italian fashion by 4.8 percent last year, according to SMI. However, this was below the 7 percent growth seen in 2010.
"Asians and Russians are our main clients," a shop assistant at luxury shoemaker Bruno Magli said before Christmas, where a pair of crystal-encrusted shoes were priced at over 700 euros.
The male-dominated Chinese market is lifting menswear sales by about 14 percent a year, nearly double that of luxury womenswear, consultancy Bain & Co. said.
The trend is reflected in Italy, where menswear sales have finally returned to growth after three negative years, SMI said.
Sales of Italian tailored suits, cashmere sweaters and leather accessories rose 3.4 percent to 8.4 billion euros in 2011, with only ties lacking appeal.
The menswear sector, worth around 180 billion euros, accounts for 40 percent of the global fashion market, Bain said.
The fashion marathon moves to Paris on Tuesday.
($1 = 0.7814 euros)
(Reporting by Antonella Ciancio, editing by Paul Casciato)
© Thomson Reuters 2023 All rights reserved.