China mall space closing in on European levels
China will have more shopping centre space than Western Europe in 5 to 10 years, stoking fears of a property bubble as developers race to build glitzy malls for the country's fast-growing middle classes, research shows.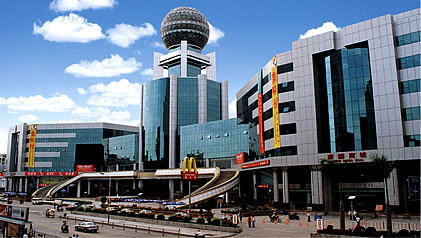 The New South China Mall, the world's biggest shopping centre
China has built at least 20 million square meters of shopping centers in 14 major cities over the past decade, with a further 14.8 million square meters under construction, property consultancy CBRE Group said this week. Western European centers cover 55 million square meters.
"If China keeps building at this rate, and on the assumption there's more shopping centre space outside the cities we cover, China will probably overtake Western Europe in 5 to 10 years," said Neville Moss, CBRE's head of EMEA retail research.
Europe began building shopping malls in the 1960s, but China started only 10 years ago. Developers in China turned their attention to malls in recent years to capitalize on rising demand from international retailers such as
Burberry
and
Louis Vuitton
. It also became a more attractive sector after government clampdowns on the country's overheating housing market.
Hong Kong-based companies Sun Hung Kai Properties and Swire Properties are among developers building new centers in Chengdu, southwest China, while Singapore-based CapitaMalls Asia is spending 2.3 billion yuan ($361 million) to build its ninth shopping centre in Beijing.
The rush to build has resulted in a slew of large centers in less-developed areas standing largely vacant. New South China Mall (the world's biggest, at 660,000 square meters) in the southern manufacturing city of Dongguan is reported to be mostly empty seven years after opening.
However, retailers are still struggling to find premises in popular locations.
"There's oversupply in some cities," Moss said. "A lot of the development is in emerging, suburban parts of tier two or tier three cities."
China's building boom contrasts sharply with Western Europe's lackluster shopping centre development pipeline, which has been hit by the region's worsening debt crisis, lack of financing and a difficult retail climate.
At the end of March, 14 million square meters of mall space was under construction in Western Europe, down from 17 million square meters in 2007, data from Property Market Analysis LLP showed. Developer Land Securities' 93,000 square meter
Trinity
Leeds shopping centre will be the first major UK mall to open for two years when it is completed in 2013.
Other countries, such as France, the Netherlands and Sweden, are experiencing similar levels of activity, Moss said. "Overall, within Western Europe, the opportunities for new large-scale developments is pretty limited."
© Thomson Reuters 2023 All rights reserved.