China must boost imports to avert trade war
BEIJING - China will import more big ticket items and luxury goods this year to avoid a costly trade war but will not curb its own exports, predicted a former Chinese trade official in an interview with Reuters.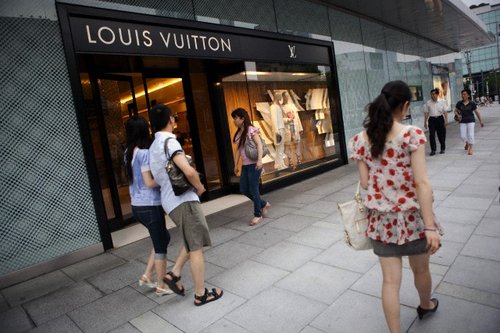 Louis Vuitton in Shanghai - Photo: Corbis
Spats between China and its trade partners over issues from solar panel subsidies to airline emissions fees are on the rise as the global economy slows and U.S. politicians sharpen their rhetoric ahead of a presidential election in the fall.
"We must prepare for a big trade war this year," said Wei Jianguo, a former vice commerce minister who is now a government advisor.
"But since Chinese consumers demand Western cosmetics and handbags, why can't we greatly boost imports of such products?"
Earlier this week, U.S. President Barack Obama signed an executive order creating a new government team to enforce trade rules, a step widely seen as aimed at China, and senior lawmakers want to push a bill that would allow the U.S. to impose duties on subsidised Chinese goods.
China has largely remained quiet about the Obama administration's move to create the 50-60 person trade unit, suggesting its leaders hope to avoid a loud dispute with the United States in a year when China goes through its own sensitive leadership transition.
As for Europe, Wei said China should cut import duties to encourage more purchases by China's affluent consumers, who enthusiastically buy Louis Vuitton handbags and Italian suits.
But in a reminder that China can also act tough on trade issues, local media reported on Thursday that China-backed Hong Kong Airlines Ltd has threatened to cancel an Airbus aircraft order over an EU airline emissions fee scheme, which has sparked strong opposition from China.
China has previously threatened to hold back on purchasing Airbus aircraft in retaliation against the plan.
TARGETED BY FRIENDS
China, the world's largest exporter selling $1.9 trillion worth of products to overseas markets in 2011, often uses big orders for American products, from Boeing aircraft to soybeans, as a way of deflecting U.S. anger over its huge trade deficit.
It is also the biggest target for anti-dumping charges. Those cases increasingly come from emerging markets like India and Brazil, China's key export markets for the future.
"Developed countries will target us. Our friends, emerging markets, will also target us," Wei said, speaking at the offices of the China Center for International Economic Exchanges, a quasi-governmental think-tank.
But while China faces increased protectionism, a trade war is less likely, said Chin Leng Lim, a professor of law and a trade expert at the University of Hong Kong.
"The protectionism issue is separate from fear of a trade war -- there is some control over the fear of a trade war because it takes two hands to clap," he said.
China's response to its trading partners' complaints is limited by its own domestic worries, said Wei. The Chinese government must continue to protect its exporters with all possible ways -- including keeping the yuan exchange rate relatively stable, he said.
"The government must make a warm cotton quilt to help exporters weathering the harsh winter."
Wei's comments do not represent Beijing's official stance. But Wei, also a member of the Chinese People's Political Consultative Conference, the country's top advisory body, is influential in policy-making.
Chinese leaders are especially nervous about the fate of the export sector, one of the biggest domestic employers and key to preserving social stability.
President Hu Jintao said in February that China must implement an "even more proactive" employment policy, showing Beijing's deep-seated worry.
China's Ministry of Commerce is working out detailed measures to help the country's exporters after exports fell 0.5 percent from a year ago in January.
(Reporting by Zhou Xin, Shen Yan and Michael Martina; Editing by Don Durfee and Neil Fullick)
© Thomson Reuters 2022 All rights reserved.