China's luxury buyers pull back as economy slows
Shares of the world's largest jewelry retailer, Chow Tai Fook, tumbled nearly 8 percent to a two-week low on Thursday on weaker-than-expected sales, deepening a sector-wide stock slump as China's slowing economy saps luxury demand.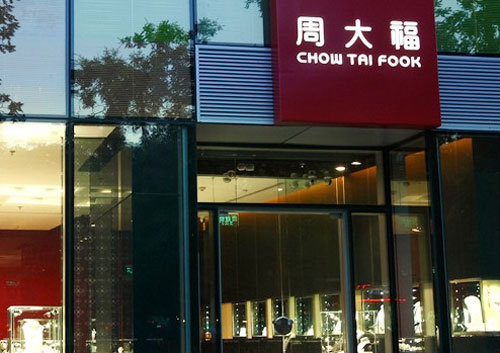 Photo: Chow Tai Fook
A host of Chinese companies, ranging from a steel maker to a major airline, have warned of disappointing results over the past week as the world's second biggest economy slows to its weakest growth pace in three years.
Evidence that the slowdown was spreading to China's luxury sector, which is a vital source of growth for companies worldwide, spooked investors. Britain's
Burberry
said on Wednesday its sales had been hit by a slowdown in China.
Shares of Italian fashion house
Prada
and high-end men's fashion retailer
Trinity
were both down nearly 4 percent in midday trading.
"An economic slowdown defers consumer spending, in particular the need for luxury items," said Linus Yip, chief strategist in First Shanghai Securities.
"Investors may reduce their exposure to the luxury segment until they see signs of a pick-up."
Chow Tai Fook said late on Wednesday that its revenue grew just 16 percent for the three months ended in June, well below the 61 percent rise it reported for the fiscal year that ended in March.
Its overall same-store sales growth was 4 percent, but Hong Kong and Macau turned in a surprisingly weak 1 percent decline because of lower sales of expensive gem sets. Same-store sales in mainland China were up 10 percent.
"We had forecast growth of 5-6 percent but not negative growth of 1 percent," said Patrick Yiu, a director CASH Asset Management. "We cannot confirm if there can be recovery for the remainder of the year. Even if there is a recovery trend, the growth will be mild."
Hong Kong and Macau accounted for about 43 percent of Chow Tai Fook's revenues, with the remainder coming from China.
Shares of Chow Tai Fook touched HK$9.55, their lowest since June 28, lagging a 1.6 percent drop in the benchmark Hang Seng Index.
Analysts said a drop in mainland tourists visiting Hong Kong hurt the retail market, a popular destination for Chinese shoppers looking for high quality luxury fashion and jewelry, as well as basic necessities such as infant baby formula.
The number of mainland tourist arriving in Hong Kong was down 4.8 percent month-over-month in May at 2.53 million.
Hong Kong retail sales rose 8.8 percent year-on-year in May, the slowest growth since February 2011.
© Thomson Reuters 2023 All rights reserved.