Chinese city Ningbo builds a bridge to prosperity
By Langi Chiang
NINGBO, China (Reuters) - The $1.5 billion, S-shaped bridge that will link Ningbo and Shanghai is graceful testimony to the huge sums that China is investing in infrastructure to keep raising the potential of the world's fourth-largest economy.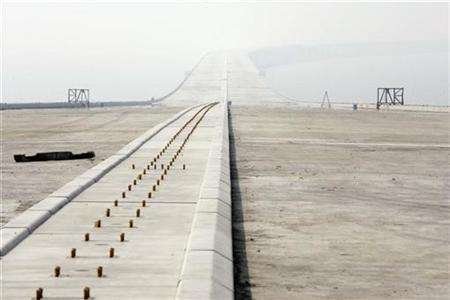 By cutting the transit time between the two port cities to 2- hours from four, the 36 km (22.5 mile) sea bridge, the world's longest, will give a further boost to one of the most prosperous corners of China when it opens next June, businessmen and officials say.
"Construction of the bridge will accelerate the flow of goods and talent and give a push to the integration of economic development in the Yangtze River Delta," said Lu Zheng, who directs the Institute of Industrial Economics at the Chinese Academy of Social Sciences in Beijing.
All across China, extensive investments in the sinews of the economy are transforming the prospects of second-tier cities like Ningbo. Spending on fixed assets like airports and power plants has grown steadily at around 25 percent annually in recent years.
Just a week before the Hangzhou Bay bridge was finished on June 26, workers completed the Sutong bridge over the Yangtze river, less than 300 km away.
That $845 million bridge also set a record: its 1,088 meter span makes it the world's longest cable-stayed bridge.
Although skeptics fear many of the projects will turn out to be white elephants, China's planners are convinced that first-class roads and ports are key to increasing productive capacity and enabling businesses to march up the value chain.
China plans to spend $205 billion on its railways alone between 2006 and 2010.
TO GET RICH, BUILD ROADS
Like any number of Chinese cities, Ningbo has taken to heart the old Chinese saying "If you want to be rich, you must first build roads." It plans to spend more than 30 billion yuan ($4 billion) between 2006 and 2010 on railways, highways and bridges.
"The bridge will make my travel to Shanghai shorter and cheaper," said Ralph Fohr, managing director of a German consulting firm, as he was packing to fly back to Shanghai after attending a trade fair in Ningbo.
"Time is something that I can't buy," said Fohr, who makes the trip to Ningbo once a week. It normally takes him 3-4 hours, door to door.
Ningbo sits in the industrial heartlands of eastern Zhejiang province, a hotbed of private enterprise.
A city of 5.5 million, it is home to a swarm of manufacturers including well-known Chinese names such as Ningbo Bird, a mobile phone maker, and Younger, a garment producer.
Shorter traveling times will make it easier for manufacturers to team up with design professionals in Shanghai, said Lu, the CASS researcher.
"That will definitely help Ningbo upgrade its manufacturing industry since Shanghai is now increasingly becoming a design hub in addition to its role as China's financial and research and development centre," he said.
An important port for more than 1,000 years, Ningbo's economy grew 13.4 percent in 2006. That took the city's per capita output to $6,568, more than three times the national average and close to Shanghai's $7,490. Property prices are rising fast.
UP, UP AND AWAY
Expecting ever more businessmen and tourists, luxury hotel chains like the Hyatt Regency and the Shangri-La are moving into Ningbo, which could have as many as 20 five-star hotels by 2009. Last year it had just four.
The University of Nottingham in Ningbo, an offshoot of the English university, became the first fully equipped foreign campus in China when it opened in 2005.
But for now, the city thrives mainly by pouring concrete.
At the southern end of the Hangzhou Bay bridge, heavy trucks are busy dumping earth into the sea to reclaim land for a huge industrial park. Factories already line the road to the bridge.
Encouraged by tax breaks, manufacturers are spending more on high-tech equipment and on developing new products.
AUX, an air-conditioner maker, invested around 200 million yuan on research and development in 2006. It is able to charge 30 percent more for the higher-value products that resulted.
"With improved branding and technology, we're expanding into new business lines and more markets overseas," its chairman, Zheng Jianjiang, told Reuters.
Jason Lu, a sales manager for a local textiles company, said his firm had spent more than $50 million on state-of-the-art equipment from Europe to boost productivity and move its home-textile products upmarket.
This is all music to the ears of Ningbo's planners, who are banking on logistics and port services, as well as heavy industries such as chemicals and oil, to keep driving growth.
"Ningbo is upgrading its industrial structure and the proportion of high-tech products is increasing," said Yang Mingxiang, director of the Ningbo Development and Research Centre, a city government think-tank.
($1=7.598 yuan)
© Thomson Reuters 2023 All rights reserved.