Chinese Olympian causes storm in Japanese flag top
BEIJING (Reuters) - Former Olympic basketball player Sui Feifei has caused an internet furore by wearing a trendy Ed Hardy tracksuit top featuring the Japanese flag to collect her Chinese Coach of the Year award at the weekend.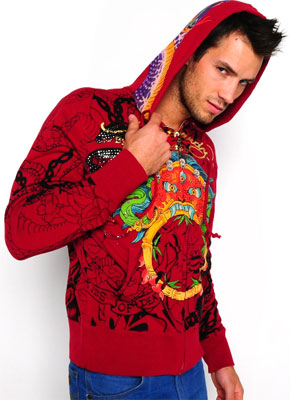 Ed Hardy
Sui, coach of the People's Liberation Army (PLA) team and technically a serving officer in China's military, provoked the ire of nationalists after being pictured in the designer top at the Women's Chinese Basketball Association awards in Jiangsu.
"Fire Sui Feifei! A PLA wearing a Japanese sweater!" one poster wrote on sports.cn.yahoo.com.
"She has to realise that she is a PLA officer. It is unacceptable for her to wear such a sweater in a public place. It stimulated the most sensitive nerve of people."
Japan invaded and occupied much of China between 1931 and 1945. Rancour over Japanese wartime atrocities has subsided as a diplomatic flashpoint, but it continues to shape Chinese public attitudes towards Japan and its people. Last month, the head of the country's top sports university said China must urgently address the physical fitness of the nation's youth or run the risk of raising a generation incapable of fighting the Japanese in a future war.
What athletes wear on national duty is also sensitive, as curler Wang Fengchun discovered when he was wore a U.S. team cap with his China uniform on the way home from the Winter Olympics. His sacking was compounded by the offence, officials said.
"Innocent people are innocent," Sui told Chengdu Business Daily.
Although the majority of posts criticised Sui for wearing the top from a designer label favoured by Hollywood celebrities, others were prepared to give her the benefit of the doubt.
"It must been unintentional. We should stop these inquisitions," a poster called Long Long wrote.
(Reporting by Liu Zhen and Nick Mulvenney, editing by Patrick Johnston, To query or comment on this story email
[email protected]
)
© Thomson Reuters 2023 All rights reserved.