Claiborne sheds namesake brand, cuts down debt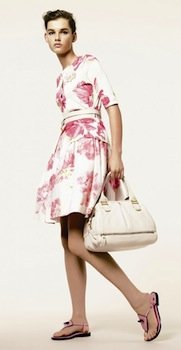 Liz Clairborne
Wed Oct 12, 2011 -
Liz Claiborne
Inc (LIZ.N) plans to sell off more of its major brands, including its namesake line and slash its debt by nearly two-thirds to focus on three key brands.
The news calmed investor concerns about its heavy liabilities and sent Claiborne shares up 31.8 percent to $6.72 in morning trading on Wednesday.
The company said it is selling its Liz Claiborne and Monet brands to J.C. Penney Co Inc (JCP.N) for $267.5 million, one in a slew of deals in recent months.
It will concentrate on its
Juicy Couture
,
Lucky Brand
and kate spade retail brands and is looking into a new company name to reflect that strategy.
Claiborne Chief Executive William McComb, who took the reins of the company in late 2006, said Claiborne will have a more appropriate debt load considering the risk of another recession in the United States and Europe.
"We need to bring down our debt and thereby 'de-risk' our company," he told Wall Street investors on a call.
Last month, Claiborne said it was selling most of its money-losing international
Mexx
business in a joint venture with The Gores Group, and in August announced it would sell the trademarks on some of its perfumes, including Curve, to
Elizabeth Arden
Inc (RDEN.O), also to lower its debt.
It earlier also sold its Dana Buchman brand to
Kohl's
Corp (KSS.N).
All told, these deals will bring in $471 million, which Claiborne will use to shed about 62.2 percent of its net debt, which stood at $741.6 million as of July 2.
Claiborne hasn't reported a profit since 2006.
The company still faces some challenges. McComb said that comparable sales at Juicy Couture were down again in September, falling 5 percent, based on a preliminary tally. Still they were up at Lucky Brand and kate spade.
SHEDDING NAMESAKE
Penney, which has said in recent results reports that sales of the Liz Claiborne line have been strong, has had the exclusive licensing rights to the brand since August 2010.
Their deal gave Penney the right to buy the Liz Claiborne brand outright at certain dates.
Penney will then license back the Liz Claiborne New York and Lizwear trademarks to Claiborne without collecting a royalty.
The department store chain expects to become the exclusive store with Monet by August 2012.
Liz Claiborne is also selling smaller brands like Kensie, Kensiegirl, and Mac & Jac.
The company will also end its licensing deal for
DKNY
Jeans with designer Donna Karan a year early, effective January.
Liz Claiborne expects net debt at the end of fiscal 2011 to be between $270 million and $290 million.
As a result of all these transactions, Claiborne lowered its adjusted EBITDA forecast for fiscal 2011 to a range of $80 million to $90 million, from a range of $100 and $120 million.
(Reporting by Phil Wahba in New York; Editing by Derek Caney, Dave Zimmerman)
© Thomson Reuters 2023 All rights reserved.