Clothing retailers see profits fall
By Mark Potter and James Davey
LONDON (Reuters) - Two of the country's biggest clothing retailers reported lower annual profits and weaker recent trading on Tuesday as turbulence in financial markets adds to the pressure on shoppers from high food and fuel costs.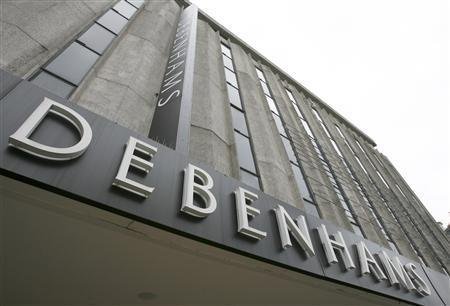 Arcadia, the fashion group owned by billionaire retailer Philip Green which houses Topshop and Miss Selfridge, and Debenhams, Britain's second-biggest department stores group, both said they expected business to remain tough.
But they also refused to write off the key Christmas trading period, reporting solid demand for younger women's fashions, soft leather jackets and "Boho" style clothes.
"I think there are more warning signs this year than there have been before," Debenhams Chief Executive Rob Templeman told reporters. "But there's a real danger of us talking all the numbers down amongst ourselves."
Some analysts are forecasting the worst Christmas in living memory as rising unemployment, sliding house prices and growing economic uncertainty add to the pressure on household budgets.
"In this current environment when people really don't need to go shopping, they're not going to," Philip Green told Reuters in a telephone interview.
But he hasn't given up hope.
"We've bought inventory, we've got shops, we've got people, we've got customers and we're going to trade the best we can."
Green also said he remained in talks to buy the debts of Baugur, the Icelandic retail investor whose interests span House of Fraser department stores and fashion group Mosaic and which has become swept up in the financial crisis in Iceland.
The talks, which also involves Iceland's government and the nationalised banks that hold some of Baugur's debts, have dragged on and Green faces competition for control of Baugur from private equity groups TPG, Permira and Alchemy, UK media reports say.
Baugur has a stake of just over 13 percent in Debenhams, and Templeman said he had no idea what would happen to it.
DIVIDENDS AND DEBT
Arcadia, Britain's third-biggest clothing retailer, reported a 6.1 percent drop in operating profit to 275.3 million pounds for the year ended August 30.
Sales fell 0.6 percent to 1.85 billion pounds and were down 1.8 percent in the first seven weeks of the new financial year.
The group, which trades from over 2,500 UK stores under brands such as Burton, Dorothy Perkins and Evans, said its bank debt had been reduced by 76 million pounds to 695 million and that it was not paying out a dividend.
In 2005, Green took a dividend of 1.2 billion pounds, the biggest payout to an individual in British corporate history.
Debenhams, which runs 145 department stores across the UK and Ireland, met forecasts with a 16-percent fall in profit before tax and one-off items to 110.1 million pounds for the same annual period.
Like-for-like sales fell 0.9 percent and were down 4.2 percent in the first six weeks of the new financial year.
Debenhams, whose shares have plunged since it returned to the stock market in 2006 laden with debt, slashed its dividend to 3 pence from 6.3 pence last year and said it was taking steps to repay its borrowings more quickly.
These include a cost savings target of 10 to 15 million pounds, plans to cut capital spending to 90 million this year from 129.1 million last year, and managing stock more tightly.
Templeman said a lack of clearance stock was the main reason for the big fall in like-for-like sales in recent weeks, and the company's gross profit margin had risen 50 basis points as a result.
Debenhams shares jumped as much as 8 percent to 35.25 pence, with the group also saying it was gaining market share.
"We are not changing our EPS (earnings per share) forecasts -- a positive given the recent raft of negative newsflow in the sector," Merrill Lynch analysts said in a research note, referring to their expectations for the current financial year.
But some analysts remained worried by Debenhams debt, which stood at 994 million pounds at August 30, more than three times its market value, as well as the downturn in recent trading.
"Debenhams is very operationally geared, with every 1 percent movement in like-for-like sales costing it 10 million pounds in gross profit. So a run-rate like this will do quite a lot of damage to the bottom-line," said Pali International analyst Nick Bubb.
He provisionally cut his profit forecast for the current year to 80 million pounds from 99 million.
(Editing by Jason Neely, Paul Bolding)
© Thomson Reuters 2023 All rights reserved.