Collective Brands unit to launch "green" shoes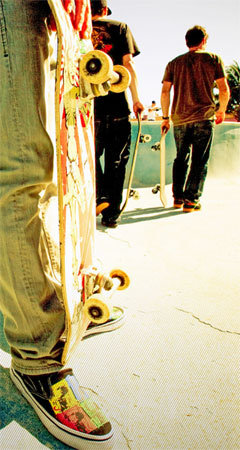 Collective Brands Airwalk
Oct 13 (Reuters) - Footwear retailer Collective Brands Inc's unit, Payless ShoeSource, plans to launch a line of affordable eco-friendly shoes, marking the company's entry into the "go-green" movement that has recently caught on with retailers.
"Green" is now a major marketing gimmick, and major companies such as Nike Inc are recognizing its importance among global shoppers. Even retailing giant Wal-Mart Stores Inc is offering more organic goods.
Payless' green footwear line, expected to hit stores early next year, is a part of the shoe retailer's strategy to position itself as a discount retailer of new brands.
The "green" shoes will be available at a price, on average, of below $30 a pair in about 500 stores.
Payless said it expects to launch the new brand name closer to when the shoes are available in stores next year.
Shares of Topeka, Kansas-based Collective Brands were trading up 20 cents at $14.64 Monday morning on the New York Stock Exchange. (Reporting by Nivedita Bhattacharjee in Bangalore; Editing by Pratish Narayanan)
© Thomson Reuters 2023 All rights reserved.