Comfort in catwalk cashmere for Scots textile firm
By Sarah Marsh
ELGIN (Reuters) - It has survived more than two centuries of war, devastating floods, and recessions: unlike other textile groups, Scottish company Johnstons has not been cowed by globalization.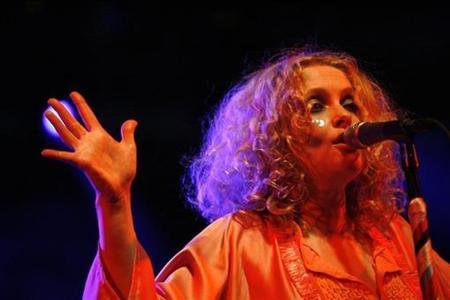 Faced with the threat of cheap outsourcing and mass manufacturing, the 211-year-old family-owned firm has taken the high road. It shifted its focus to providing top quality for luxury brands such as Louis Vuitton, Chanel, and Hugo Boss.
"Higher value, lower volume -- that's the mantra," said Managing Director James Sugden. He visits shepherds in Mongolia and China in the quest for the finest cashmere, which comes from the downy underfleece of the cashmere goat.
As a result, the company has defied a general decline in British manufacturing as retailers shifted production to cheaper sites such as China and Eastern Europe. It now employs over 600 staff compared with 150 people 20 years ago, and generates a steady annual turnover of 40 million pounds ($78 million).
Johnstons' shift has involved restructuring and comes amid massive upheaval in the global sourcing industry and the threat of a slowdown in luxury goods as U.S. and European consumers are squeezed by rising living costs.
Driven by increasingly negative sentiment, the global luxury sector has suffered a substantial derating in the past six months, and now trades at about 13.7 times forward earnings, down from 19.7 times, according to Bernstein Research.
But if Johnstons seems bold, luxury goods executives and some analysts argue high-end luxury is most resilient in a slowdown because the spending power of the super-rich is traditionally more protected in a downturn.
That view has sent other luxury goods companies and suppliers -- from Swiss conglomerate Richemont to Italian cashmere firm Loro Piana -- scrambling for the higher ground.
"Consensus seems to embody a view that high-end luxury can hold up best in a slowdown," Bernstein analyst Luca Solca said in a recent research note.
RESTRUCTURING
The Johnstons Elgin mill, in a remote part of north-east Scotland, prides itself on being the only one in the United Kingdom to carry out every process in production from acquiring the raw fibre and dyeing, spinning and weaving it to the completion of a luxury garment.
The company produces 10-15,000 cashmere scarves a day, as well as tweed-covered champagne-coolers, tartan throws and silk cardigans. Just one bale of cashmere is worth around 5,000 pounds.
Like other Scottish textiles companies, it has gone through job cuts and restructuring: the stone mill looks quaint and cottage-like, but inside the machinery is high-tech and the workforce highly skilled in both manufacturing and artisan techniques.
"When I first started here there were about 12 of us in a team, now I look after about 70 of us," said Scot Lorraine Stephen, who has worked at Johnstons for 25 years and whose mother and grandmother were both weavers there.
Alexander Johnston founded the company in 1797 as a general trading company, and its hand-written accounts, preserved since the 18th century testify to meticulous attention to detail.
The imperative of its move upmarket is highlighted by rivals close to home such as the Harris Tweed industry, where more than 100 weavers face redundancy this year because of falling demand from retailers in the mid-market.
At the top end, growing numbers of newly wealthy clients in emerging markets are drawn by the "Made in Scotland" label and the heritage of textiles such as tartan and tweed, which evoke deer-hunting in the Scottish highlands, stately homes and clan chieftains.
SINGH TARTAN
In recent years, Chinese, Poles, and Sikhs have registered their own tartan designs as the check pattern that is a badge of identity gathers global ground: the Singh tartan -- a sky-blue background with a green and red plaid -- was registered by a millionaire Sikh property magnate in 2000.
"Made in Europe -- or Made in the UK or indeed Made in Scotland -- labels are an important selling tool in many of our emerging markets, where nouveaux riches are looking for high quality branded collections. This is especially the case in Russia and the Gulf markets," said Paul Alger, Executive Director of independent trade association, UK Fashion Exports.
Scottish-born designer Graeme Black, formerly head of design for Armani Black Label and Ferragamo womenswear, said Russian clients were keen on the Made In Scotland collection he launched at this year's London Fashion Week.
"I intend to carry on my working relationship with Scottish mills because of the very favorable reaction to the collection," Black told Reuters.
Scotland as a brand is also benefiting from a growing number of Scottish designers causing ripples in the fashion world. Designers such as Black, Christopher Kane and Louise Gray are dusting off its old "twinset and pearls" image, reinventing the use of tartan and knitwear, and adding a touch of glamour.
(Additional reporting by Golnar Motevalli, Rachel Sanderson in London; Editing by Jon Boyle and Sara Ledwith)
© Thomson Reuters 2023 All rights reserved.