Conception of Christophe Josse off-the-peg line
He has a love for beautiful materials: silk, veils, sable, materials that "seduce by touch but also with looks", and Christophe Josse remains faithful to these in his off-the-peg collection. A capsule collection, this will add to the designer's existing 'weightless' universe which, until now, was dedicated to Haute Couture.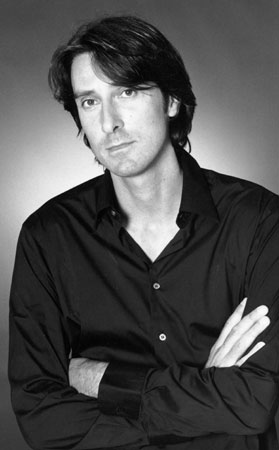 Christophe Josse takes the reins of his house, supported by French private investors
"Written in the spirit of the house, like a reinterpreted scent of fashion", around ten outfits will be released for spring-summer 2010. "Haute Couture gave it its roots, which established the name. After that, we must push, develop, grow. We are moving, we are alive," Christophe Josse passionately tells us. Mr Josse began his career within the big fashion houses before launching his own lines, carrying his name, four years ago.
Even if with Haute Couture the essence, the values, the identity of the brand express themselves and light up, showcasing the designer's ideas, it has limits all the same. Beyond the dream, you know that clients need items that are easier to wear.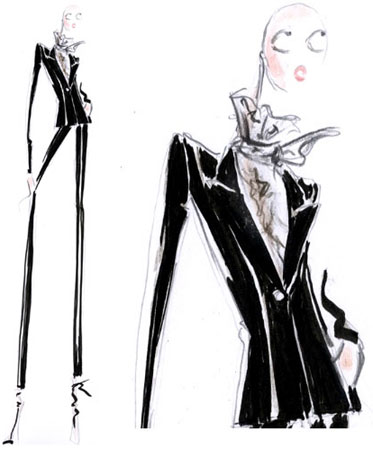 Sketch of the Christophe Josse off-the-peg collection spring-summer 2010
"It's frustrating to present Couture, appeal to people, take them into a dream-like world, but not be able to respond to all of their demands as well as those of stores", confirmed Christophe Josse, also mentioning "the economic reality" in which we find ourselves. "Off-the-peg is a way of ensuring the longevity of Haute Couture. To live in these times without off-the-peg, that is difficult to imagine."
An example can be found with the American clients of the house – between 15 and 20% of the brand's turnover comes from the USA – which "is going to become feverish. We must find a new way, adapt ourselves whilst conserving the stamp of the house."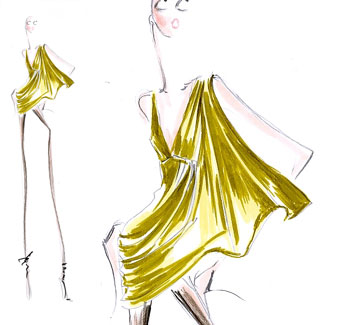 Sketch of the Christophe Josse off-the-peg collection spring-summer 2010
Sold at between €1,000 and €1,400, the clothes (suits, dresses, …) are enlivened by a "certain demand of the materials, by a construction only for clothes with elements which are often only the privilege of Couture and which we neglect for ordinary off-the-peg wear, without going towards convoluted things, excessive accessorisation, but a line, simple, exact, it's not so easy".
Eventually, Christophe Josse hopes that this "opening to the world" will allow the label "to have a real impact in people's subconscious". In the process of writing a new chapter of his history, he stated that he was not against a diversification, potentially through licensing deals for bags or a perfume, "if the equilibrium is there and we are cruising with a good rhythm.'
By Jonathan Fulwell (Source: Julie Mangaud)
Copyright © 2023 FashionNetwork.com All rights reserved.