Days of designer diktat numbered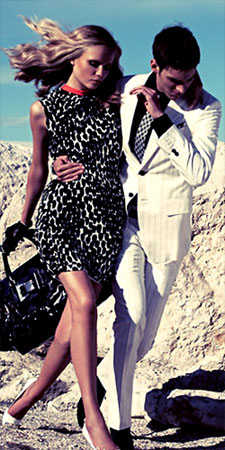 Gucci ad 2008
PARIS, Jan 15, 2008 (AFP) - The days of big-brand designer domination are numbered, with fashionistas now poised to go for the different, the exceptional, and the ethical, says one of the world's leading fashion gurus.
"Buying something just because it's in fashion is a thing of the past," said Jean-Jacques Picart, 61-year-old consultant for the world's most powerful luxury firm, LVMH, plus a bevy of other brands.
"Modest glory is the way ahead," he added. "People want what is different."
In his office on Paris' oh so fashionable Rue St Honore, a prime piece of real estate done out in chocolates and greys with orchids, photographs and mementoes from far-off places, Picart muses over the last 20 years of life on the world's fashion planet.
"We have entered an era of fundamental change," he says, in which every sector of fashion, from creation to sales, is mutating.
"Yesterday's recipes for success, drawn up in the 90s when (Texan designer) Tom Ford came to Gucci, are no longer valid."
Until his 2004 divorce with Gucci, the all-powerful, all-present Ford not only ramped up the brand but imposed a new image as designer-cum-manager, laying down the law on everything, from the style of a dress to the advertising to the decor of the label's boutiques.
"This job is a total ego thing," Ford once said. "To be a designer and say 'This is the way people should dress, this is the way their homes should look, this is the way the world should be.' But then that's the goal, world domination through style."
Over the past two decades, big designer labels followed in Ford-at-Gucci's footsteps, offering ranges of goods all cut to the same style.
"This became a straitjacket," says Picart, a short quiet bespectacled man in black. "Brands currently need to offer goods that surprise, that are exceptional."
The puzzle of how brands help people express who they think they are -- or might want to be -- was put to researchers recently at a European Science Foundation workshop in Italy. Said David Ravasi of the country's Bocconi University: "This is such an unexplored field."
What, for instance, can a fashionista think after seeing Kate Moss cradling a Dior bag in one ad, then one manufactured by Longchamp in another. Why would the more expensive Dior bag be better?
Looking into his crystal ball, Picart says the world has turned on its head and fashionmakers need to catch up.
Not only have cheap n'chic mass brands suc as Spain's Zara, Sweden's H&M or Maje in France blurred the boundaries with top-end labels, but the DIY be-yourself ethos of Nike's "just do it" or the IPod ads have accelerated the accent on personal creativity.
In a global world "where everything is in everything and everything is everywhere, the consumer's response may be to invent his own manner of consumption, leading to the return of eccentricity," said Picart.
The old days of the big brand star designer may be coming to an end, he added, citing France's Jerome Dreyfus and Stephane Verdino, who design top-end affordable accessories, along with Americans Derek Lam and Philip Lim.
"The small non-brand paths to fame used to go nowhere, but in the last four or five years the road's been good on the small paths," said the man who discovered -- and then fell out with -- designer king Christian Lacroix and Hedi Slimane, the stylist who revolutionised men's wear at Dior, and beyond.
With the advent of global neuroses -- anxiety over job security, terror, climate change -- consumer appetites had changed. "People no longer want to look good, they want to feel good," he said. "People want value for their money.
"The brand has to show it respects the customer, which is where ethics come into play."
In this brave new world of fashion, the buzz-words will be "exceptional", "different" and "ethical", and will see the comeback of the designer as artist, as creative talent.
"There will be small district boutiques, selling small and not necessarily expensive designers," he said. "Modest glory is the way ahead. People want what is different."
"The more our sector has globalised, the more people want local inspiration," he added.
So would developing nations such as China or India soon have the same global style impact as the Japanese in the 1980s?
"I think designers from emerging nations haven't yet mastered how to integrate their culture into western-style collections.
"For the moment Europe still has things to say, producing exceptional clothes that are not necessarily luxury, but are unique."

By Claire Rosemberg
Copyright © 2023 AFP. All rights reserved. All information displayed in this section (dispatches, photographs, logos) are protected by intellectual property rights owned by Agence France-Presse. As a consequence you may not copy, reproduce, modify, transmit, publish, display or in any way commercially exploit any of the contents of this section without the prior written consent of Agence France-Presses.