Deacons South African brands gain acceptance in Kenya
NAIROBI (Reuters) - Kenya's biggest fashion and home goods retailer, Deacons, said on Wednesday 22 July its five South African brands were doing well in the east African nation, where consumers have often shunned South African merchandise.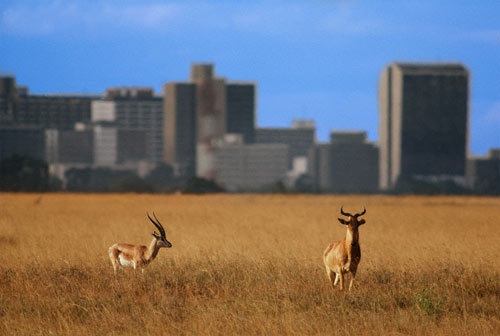 Nairobi skyline
Privately held Deacons has franchises for the South African Mr. Price, the upscale Truworths and Woolworths, Identity and Sheet Street. It has also created two of its own brands, 4u2 and Angelo.
Resisting what they see as aggressive expansion by South African businesses, some Kenyans have not welcomed the better capitalised and well-resourced new entrants, but locally owned Deacons said its experience had been different.
"Deacons did not realise any resistance for the brands," finance and strategy manager Simon Mundu told Reuters.
"Anything that is South African that has come here to invest, failed and gone back ... is because it was a cut-and-paste job. They picked up what they were doing in South Africa into the Kenyan market. For us, we localise it to our market."
Brewer SABMiller is the best known case of a South African company that tried and failed to crack Kenya, as did Stuttafords, a clothing store, and
Metro
Cash and Carry.
Deacons has been in Kenya since 1958 but went through troubled times in the 1980s when the government banned all clothing imports to support the local textile industry.
The company had been importing clothes from Britain's Marks and Spencer but decided to look south when Kenya rescinded its decision to ban textile imports in 1994, Mundu said.
Deacons now has 18 stores, including three in Tanzania and one in Uganda, and plans to add a couple more in Kenya by the end of the year and a new outlet in Rwanda next year.
Mr. Price, introduced in 2007, is gaining ground and could outperform Woolworths, which has been in the country for about 15 years and is beyond the reach of many budgets, Mundu said.
A new Mr. Price store in downtown Nairobi by the end of the year will target middle class buyers, he said.
Deacons plans to double its stores in five years, at a cost of at least 800 million shillings, Mundu said.
TIGHTER BELTS
Plans to list the company next year were on hold until Kenya's economic situation improves, he said.
"However, the preparation work is still going on," he added.
Although post-election violence in the first quarter of 2008 hit Kenya's economy, Deacons stores are in upmarket malls that were largely unaffected.
"We saw sales we could not believe," he said.
Inflation and an expected increase in electricity costs will have a greater impact on the retailer's performance this year.
Sales in the first six months of 2009 were on a par with a year earlier, but down 8 percent from what Deacons had projected, Mundu said.
They could undershoot projections by between 10 and 15 percent by the end of the year, he added, but saw it as only a temporary setback as Kenyans were becoming more fashion-conscious.
"There is a very serious shift. When people walk into the shops, they know what they are looking for. They are now very fashion conscious and want to look like everyone else in the world," Mundu said.
By Helen Nyambura-Mwaura
© Thomson Reuters 2022 All rights reserved.