Debt-free Zara looks beyond pain in Spain
By Sonya Dowsett
ARTEIXO, Spain (Reuters) - Retail sales in Spain are down around six percent and the textile industry has lost 70,000 jobs since last year, but investors can retain some hope for Spanish clothing retailer Inditex.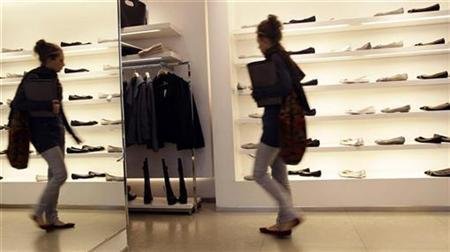 Even in a climate of enormous economic uncertainty and with a slumping home market, 20 of 29 analysts polled by Reuters Estimates have a "buy" or "outperform" recommendation on the stock.
Operating in a discretionary market and with Spain in dramatic slowdown, Inditex might be expected to suffer.
But analysts cite its lack of debt, tight control of the production process, geographical diversification, long-term growth prospects and attractive valuation as reasons to invest.
"Quality and safety at a good price," Goldman Sachs called the stock in a note earlier this month which added Inditex to its "conviction buy" list.
The company is best-known for its fast-to-market Zara brand, targeting the price-conscious consumer. Its model of high-speed delivery of almost real-time designs is so famous it has been cited by Harvard Business School as a case study.
While Spanish competitors like Adolfo Dominguez book sales falls of over 70 percent and clothing manufacturers like the makers of Lois jeans go to the wall, Inditex has kept up rapid expansion abroad.
A core strength is iron-like distribution control: every piece of Zara womenswear sold in nearly 1,500 stores worldwide passes through this cavernous distribution centre at the group's headquarters in the eucalyptus-clad hills of northern Spain.
A row of tartan coats awaits shipment to Kuwait while fur-trimmed bodywarmers are destined for Colombia. The same black dress is off to stores in Mecca and Miami.
Also giving Inditex flexibility in difficult times is a rapid response to trends. A vast white space, scattered with racks of clothing, lies in a different part of the complex. This is where every item of Zara clothing is designed.
A French-speaking Inditex employee chats on the phone to a Zara store. The instant feedback on trends and sales is passed on to designers, who adjust patterns accordingly, creating a constant stream of new designs.
Already Europe's biggest clothing retailer, outselling Sweden's H&M, Inditex's path of aggressive expansion abroad has propelled sales so it now vies for the top slot in apparel and accessories with Gap of the United States.
But while Inditex stock has lost around a third of its value since the beginning of the year, it has traded in line with Spain's blue-chip index and outperformed other leading retailers by around 6 percent.
NO DE-LEVERAGING NEEDED
An advantage Inditex shares with other high-growth retailers like H&M and Gap is a virtually debt-free balance sheet.
"It puts them at an advantage in every territory they operate in," said Anne Critchlow, analyst at Societe Generale.
"We've got a slower market, but these companies are by far and away the best placed to deal with that," said Critchlow. "It doesn't really endanger their growth plans."
Another factor supporting Inditex so far has been diversification: its expansion into the savings-rich economies of the Middle East and Asia has cut Spain's weighting in total sales to around 35 percent from about half of all sales five years ago. Inditex says this figure will continue to fall.
"The international expansion means that although we sell much more in Spain, its relative percentage will go down. That will continue to happen in following years," said an Inditex spokesman.
Although best known for Zara, which drives two-thirds of sales, Inditex owns seven more retail formats from teen fashion chain Bershka to underwear specialist Oysho.
Founded by a railway worker's son, Amancio Ortega, who started his business in the 1960s making dressing gowns in a garage in La Coruna, northern Spain, Inditex's retail empire now comprises more than 4,000 outlets in 71 countries.
The group reported 2008 first-half net profit of 406 million euros in September, more than double that booked for the same period in 2004, with sales up 11 percent at 4.56 billion.
VALUATION
But even though the company has nearly quadrupled its stores since 2001 in shopping areas from South Korea to Ukraine, for some analysts its Spanish roots are still a concern.
"The real issue is Spain," said Tony Shiret, analyst at Credit Suisse. "If you look at the UK, we're now entering the fourth winter which has been pretty terrible ... Spain has really just gone into a downturn."
This may explain the company's relatively low valuation.
Inditex is rated lower than Swedish rival H&M, which also attracts a clear majority of "buy" recommendations. Inditex trades at about 13 times estimated 2008 earnings compared with H&M's multiple of around 15 times. Gap, which a majority of analysts recommend holding, is trading at around 10 times.
Inditex argues its rate of growth is prudent and sensible because it reinvests from its own resources, and the capital expenditure needed to finance the same pace of growth diminishes as economies of scale come into play.
It aims to return cash not ploughed back into the business to shareholders -- targeting a 50 percent dividend payout -- and aspires to be cash-neutral over a year.
"No cash, no debt -- that's the company's financial policy," said the Inditex spokesman.
In the long term, difficult market conditions could even benefit Inditex as it takes market share from family businesses and small chains not able to compete on pricing.
Spanish retail data show big chains are still booking sales growth in a falling market, while smaller rivals lose ground. In addition, a depressed commercial property market could give the group rein to negotiate harder with landlords on store leases.
The International Monetary Fund said earlier this month the world economy was entering a major downturn which threatened to engulf healthier companies and emerging countries.
So the pressure is on to squeeze every penny out of cash-strapped customers battling higher mortgage payments, food and energy bills and falling house values.
"There's no doubt (Inditex) are taking market share, but it's a question of what the market is actually doing," said Shiret of Credit Suisse. "They could have a bigger share of a materially smaller market."
(Editing by Sara Ledwith)
© Thomson Reuters 2023 All rights reserved.