Designer Dundas takes the reins for Pucci debut
By Marie-Louise Gumuchian
MILAN, Feb 28 (Reuters) - Designer Peter Dundas turned to a centuries-old Italian horse race for the theme of his debut collection at the fashion house Emilio Pucci on Saturday.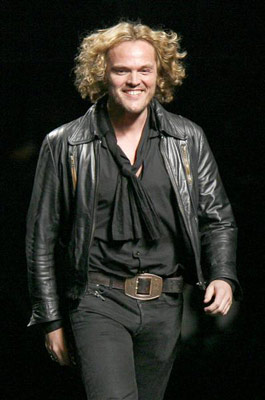 Peter Dundas - Photo : Charles Platiau/Reuters
Dundas, who became artistic director of the house in October, put models in swirly printed mini dresses and oversized silk jackets or tight zipped trousers and fur-lined biker blousons for his autumn/winter 2009/2010 womenswear show.
The line drew on the 1957 "Palio Collection" introduced by the brand's founder Emilio Pucci, who took his inspiration from the historic Palio horse race held in the Tuscan city of Siena since medieval times.
Models strutted into columned salons of a Milan palazzo in over the knee, musketeer-like suede boots and tops with prints reminiscent of the graphics on banners carried by Palio horsemen in the 16th century.
Dundas told Reuters after the show: "The Pucci girl represents joy, energy (and) fun. The key for me was showing that on a girl today."
"I came across images of the Palio and thought they were so fantastic. They made me understand the house a little bit better, but they also look great for me with the collection."
Dundas, who replaced Matthew Williamson after three years at the brand, was previously artistic director at Emanuel Ungaro until 2007 and before that was chief designer at Roberto Cavalli from 2002 to 2005.
He also worked as a designer with Christian Lacroix.
Emilio Pucci, owned by France's LVMH (LVMH.PA), is known for colourful, abstract and psychedelic designs on silk, favoured by stars such as actress Nicole Kidman and singer Kylie Minogue.
The house was founded by Marquis Emilio Pucci and took off in the 1950s after he designed a streamlined ski outfit that featured in Harper's Bazaar magazine.
He set up his workshop in the family palace in Florence and turned the ballroom into a place for entertaining clients.
In the 1990s, his daughter Laudomia Pucci started to take over the business. LVMH took a 67-percent stake in the label in 2000 and Laudomia Pucci became image director.
SOFT COLOURS
"The only one who put pressure on me and my mind is me," Dundas said when asked if he felt pressure designing for the brand. "Of course, you want people to like what you do."
Milan fashion week, which began on Wednesday, is taking place against the backdrop of a worsening global economic downturn.
Also showing on Saturday was Bottega Veneta, whose collection was dominated by dresses in soft colours such as muted browns, creams, grape and lilac.
Creative director Tomas Maier chose a rectangular silhouette, with some designs pulled in at the chest or waist. He also added jewellery -- gold, silver and rhinestones -- on the edges of some of his designs.
Other designers such as Giorgio Armani and duo Domenico Dolce and Stefano Gabbana also added sparkles in their lines, lifting the sombre mood of the tough economic climate.
"I think with the time we are in, it's kind of depressing, I think basic won't do it for me. If women want anything, they want something that is beautiful, glamorous and that takes them out of that day-to-day mood," Maier told Reuters. (Editing by Andrew Dobbie)
© Thomson Reuters 2023 All rights reserved.