Designer sees upside in "made in China" label
By Susan Fenton
HONG KONG (Reuters) - It's not usually seen conferring cachet in international fashion, but for up-and-coming Hong Kong designer Dorian Ho the "Made in China" label is an asset that he hopes will establish him as a global name.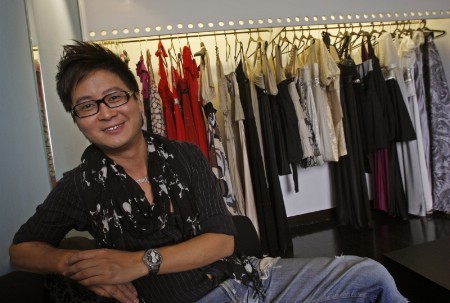 Tapping into the popularity of Western-style weddings in Asia, Ho has built a brand of "haute couture" and ready-to-wear bridal and evening gowns that he sells in Asia, the United Sates and soon plans to launch in Europe.
It might not be a Valentino or Oscar de la Renta, but at $2,000, a Dorian Ho silk taffeta ball dress is a third of the price of a Valentino or Versace equivalent.
"Few people can afford to own many Valentino gowns, but for one Valentino, they can afford to own two or three of my gowns," said Ho, 37, whose collections carry his name including Dorian Ho Couture, Dorian Ho Bridal Collection and Dorian Ho Collections.
Using couture fabrics shipped in from Europe, the gowns are stitched at Ho's own factory in southern China and embellished with intricate beading by highly skilled seamstresses.
Relatively low production costs in China, says Ho, allow him to liberally use the highest quality imported silks, lace and other fabrics and accessories.
But the burning question is whether customers will fork out thousands of dollars for premium gowns that are made in China.
Many European fashion houses believe they won't and are keeping at least their high-end designs close to home so they can control quality and optimise their "Made in Europe" labels to fend off low-priced competitors such as Ho.
"The label 'Made in China' is still, unfortunately, synonymous with 'cheap and poor quality'," said Michel Phan, LVMH-chaired professor of marketing at French business school ESSEC's Singapore campus.
"High-end fashion houses are what they are today BECAUSE they design and produce in Europe (France, Italy, UK or Spain). Those countries are synonymous with quality and attention to detail."
Even "Made in Italy" is not enough for Versace, which says all its clothes carry a label stating the item was produced at a Versace factory in Italy.
CHINA ADVANTAGE
Ho's designs might be European but his brand is Asian and he is trying to use this to his advantage by applying his knowledge of the Chinese garment industry to make high-quality gowns at prices that are impossibly low for Europe design houses.
Ho, who worked for his parents' knitwear company before setting up on his own, says he has complete control over quality because his garments are manufactured in his factory in Shenzhen, across the border from Hong Kong.
"We can control price because we own our factory in China," said Ho.
"It's very painful in China for American and European designers because they have to outsource and so they have to work hard to control quality. If you subcontract in China people might copy your designs," he added.
Manufacturing in China is tempting for Western fashion companies as they struggle to keep up with costs.
British fashion group Burberry last year started making polo shirts there, closing a plant in Wales which it said was no longer commercially viable -- a move that triggered protests outside Burberry stores in Europe and the United States.
But other fashion houses are more wary such as Chloe which says moving manufacturing to China is not on the cards at the moment even though the brand is very popular in Asia as the garment cuts suit petite Asian women. Asia accounts for 20-30 percent of Chloe's sales.
"I'd say China now is not so much a quality issue as a customer perspective issue," said Sophia Wu, China general manager of Chloe.
Luxury brands would still need to invest heavily to ensure quality control, and prove that Chinese production can mean quality, not just cheap labour, Wu said.
Western consumers might be willing to pay thousands of dollars for a Chinese-made dress if they are convinced the brand's commitment to quality remains intact, she said.
But customers in China itself, a key growth market for Western fashion houses, would not, she said.
"They'd send it back if it was not made in Italy or France," said Wu. "Chinese women are buying our clothes because Chloe represents French culture: romance and European style."
Ho agrees and says he's not targeting China yet even though his body-hugging designs have caught the eye of clients such as Chinese actress Tang Wei, star of Ang Lee's Golden Globe-nominated film "Lust, Caution." as well as Hong Kong socialites.
His sights are set on establishing his name in Europe with a ready-to-wear bridal collection next year and runway shows in Paris and London.
His company has showrooms in New York, Hong Kong and Sydney and sells to high end department stores such as Saks Fifth Avenue in the United States as well as luxury boutiques around the world.
© Thomson Reuters 2023 All rights reserved.