Dollar Tree shares hit year-high after brighter forecast
NEW YORK (Reuters) - Dollar Tree Inc (DLTR.O) shares touched a new year-high after the retailer posted a higher quarterly profit and raised its forecast for the year, buoyed by shoppers who headed to its stores for rock-bottom prices.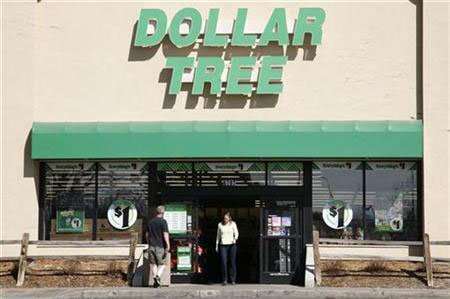 Photo: REUTERS/Rick Wilking
Shares of the retailer, which sells most of its merchandise for $1, were up 3.6 percent to $46.00 on the New York Stock Exchange, topping its previous 12-month high of $45.33 set on March 31.
Dollar Tree has benefited in recent months as the recession forces shoppers to seek out deals on anything they buy.
The company has said that customers are "trading down" from other retailers to its stores, searching for bargains on everything from beauty products to seasonal merchandise, like Easter candy.
For its fiscal first quarter, Dollar Tree said its profit rose to $60.4 million or 66 cents per share compared with a profit of $43.6 million or 48 cents per share a year earlier.
Sales were up 14.2 percent to $1.20 billion, as same-store sales rose 9.2 percent.
Dollar Tree, which operated 3,667 stores as of May 2, has been adding freezers and coolers to its stores so it can sell more food to shoppers. It said it now has freezers and coolers in about 1,200 stores.
It expects second-quarter sales of $1.17 billion to $1.20 billion, same-store sales to be up in the low- to mid-single-digit percentage range and per-share earnings of 47 cents to 51 cents.
For the full year, Dollar Tree raised its earnings forecast to $2.75 per share to $2.95 per share, on sales of $5.05 billion to $5.15 billion.
The company expects to open 210 new namesake stores in the year.
In February, it forecast full-year sales of $4.96 billion to $5.09 billion, a low to low-mid single digit gain in same-store sales, and earnings per share of $2.55 to $2.75.
Dollar Tree said the forecast assumed it did not buy back any shares in the year.
(Reporting by Aarthi Sivaraman)
© Thomson Reuters 2023 All rights reserved.