Downturn is a diamond market's worst friend
ANTWERP, Belgium (AFP) — Diamonds may be forever but traders in Antwerp are hoping Europe's recession won't be as it is turning their businesses pear-shaped.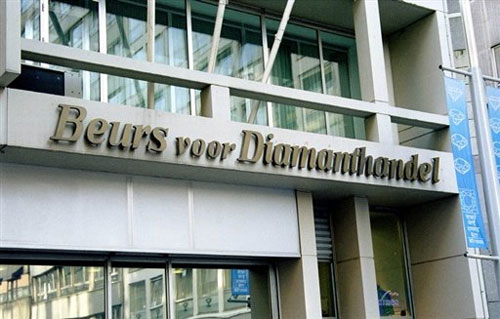 The Beurs voor Diamanthandel, Antwerp's diamond bourse - Photo: AFP
"Business is down 20-30 percent," moaned Dany Meylemans, boss of one of the diamond polishing companies in the Belgian city known as the diamond capital of the world.
In his workshop nine employees, each wearing an eye-glass, were finishing and polishing tiny facets on the precious gems.
Each individual diamond requires two to four weeks painstaking and precise work, from which the finished article derives much of its value.
Meylemans has seen demand weaken since this time last year.
"For us, the crisis started before the fall of the stock markets," he said.
But the fall in demand worsened in the first four months of this year when imports of uncut diamonds to Antwerp, north of Brussels, plunged by 45 percent and exports by 30 percent.
For polished diamonds, those worked on by the Antwerp craftsmen, the figures are 32 percent and 28 percent down.
Those kind of statistics reverberate throughout a city which handles 80 percent of world trade in uncut diamonds.
The diamond traders, many instantly recognisable by the suitcases chained to their wrists, still ply their trade in a few streets in Antwerp's diamond quarter established in the 16th century.
There they operate cheek by jowl with the brokerages, banks and specialist bourses all under the unblinking gaze of security cameras.
At the Antwerp Diamond Bourse, which handles trade in polished diamonds, the tables are almost empty.
In the big diamond certification laboratories many of the multi-faceted experts are also notable by their absence.
The sector has had to go cap in hand to the regional Flemish government seeking a 200-million-euro (280-million-dollar) guarantee.
However this figure is tiny compared to the annual trade of 42 billion dollars enjoyed by the diamond market, which "is not in enormous danger", according to
Freddy
Hanard, president of the Antwerp World Diamond Centre (AWDC), the coordinating body for the town's diamond industry.
"The crisis is there" but "Antwerp is resisting very well", he said.
However he admitted that in January "there was no business. Everybody was afraid. Even afraid to sell, because they were not sure to be paid."
Mines were mothballed in Botswana, which produces almost a third of the world's diamonds by value.
South African diamond mining giant
De Beers
cut production by 90 percent in the first quarter of this year while the world's number two diamond producer, Russia's
Alrosa
, has sold nothing to Antwerp so far this year, a reflection of the slump in demand.
"What's the use of digging out diamonds which have been in the floor for hundred of years, why dig them now when there's no chance to sell them?" bemoaned AWDC spokesman Philip Claes.
Hanard said the crisis was not uniform throughout the world. The main problems are in the United States, which buys half the stones sold worldwide, and Europe, but not in the Middle East or east Asia, he explained.
However "it is easier as a medium-sized Belgian company to sell to France or Italy ... than to Asia," he added.
Antwerp's problems didn't start with last year's recession. Antwerp was in any case facing increasing competition from countries such as India, which enjoy lower running costs.
"There has been a crisis for the last decade. Much of the diamond trade has migrated to low-cost countries," said one Antwerp diamond worker who said he had worked under "16 bosses in 20 years".
"17 out of 18 diamonds in the world are polished in India," said Freddy Hansard.
"But the biggest and the most beautiful diamonds are polished here, because we have the know-how."
By Sophie Estienne
Copyright © 2023 AFP. All rights reserved. All information displayed in this section (dispatches, photographs, logos) are protected by intellectual property rights owned by Agence France-Presse. As a consequence you may not copy, reproduce, modify, transmit, publish, display or in any way commercially exploit any of the contents of this section without the prior written consent of Agence France-Presses.