Ecole de la Chambre Syndicale de la Couture relocates to Réamur Street
The Ecole de la Chambre Syndicale de la Couture has been moved to a new location. After being moved last September, the school can from now on be found at 119 Réamur Street. Twice as big, the new space covers a total area of 2,200 m² and its decor has been created by couture designer Maurizio Galante.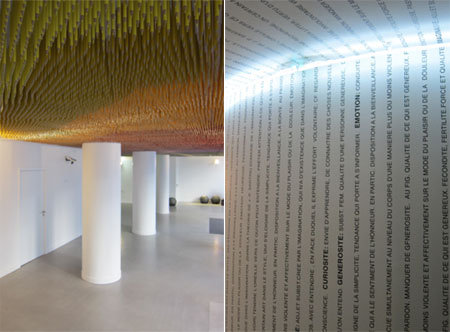 Inside the Ecole de la Chambre Syndicale de la Couture at 119 Réaumur Street in Paris
A place for modern designs and new horizons, the school's core values are embodied in the entrance hall: 100,000 pencils in 25 different colour shades hang from the roof and the words "Imaginaire, Curiosité, Ecouter, Emotion, Générosité" are written on the walls that lead to the amphitheatre. At the time of the relocation,
Didier Grumbach
, president of the Chambre Syndicale, said that the new location means that "the school has become more central and more visible".
Last September, together with the move to Réamur Street, the school also announced the addition of the 4-year course. Both of these correspond to "the school's new ambitions", explained Stéphane Wargnier, editorial director and brand consultant of Le Monde
Hermès
and co-organiser (with Céline Toledano) of the 4th year syllabus.
The new programme consists of units on the world of male fashion, knitting, accessories, as well as studying certain models more deeply, especially those that concern the "functioning of a company", said Stéphane Wargnier. It teaches marketing, computability, communications and other subject areas in which budding designers often lack knowledge, even international ones, and which could have consequences in the creation and establishment of their brand.
In general more "professional", this 4th additional year also includes seminars given by former teachers, amongst others, from different countries. Although the list of guests has not been confirmed, names such as Jean Colonna, Mathilde André and
Olivier Saillard
have been mentioned.
In regards to the 4th year that until then was an option only offered to around 10 students at the end of their degree, this has now become the 5th year but its content remains the same; an intensive course inside a big fashion house.
Copyright © 2023 FashionNetwork.com All rights reserved.