Ethical designer Hamnett enjoys fashionable return
By Deepa Babington
ROME (Reuters Life!) - British designer Katharine Hamnett is relishing a comeback now that the fashion world has finally caught up with her campaigning notions about clothes.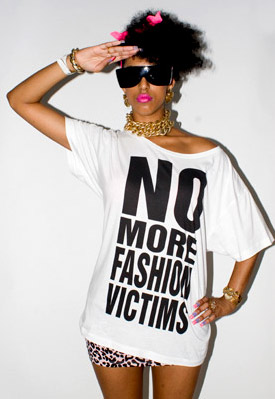 Katharine Hamnett clothes
Hamnett stormed off the fashion stage four years ago after her pleas to use organic cotton fell on deaf ears.
But the designer whose oversized T-shirts with slogans like "Choose Life" and "Use a Condom" were all the rage in the 1980s is enjoying a return now that "ethical fashion" is in vogue.
"Years ago when I was talking about this I was a voice in the wilderness and now I have people come up to me and say 'Oh, you were right all along,'" Hamnett said in an interview at Rome fashion week, where she was promoting ethical fashion.
Once a fixture on the London catwalk scene, Hamnett severed her contracts with licensees in 2004 to commit what she calls "commercial suicide" and went back to selling T-shirts when her social and environmental initiatives drew little support.
Today, she is not only enjoying a revival of the slogan t-shirt look -- actress Sarah Jessica Parker wore one in the "Sex & the City" movie -- but also plans to launch an "ethical denim" jeans line that proves ethical doesn't mean frumpy.
"It's got to be fashion first, and then environment," said Hamnett, who created a stir by meeting British Prime Minister Margaret Thatcher in 1984 in a T-shirt emblazoned with "58 percent don't want Pershing", in a reference to U.S. nuclear missiles.
"Nobody's going to buy clothes out of pity, you're going to buy clothes because you want them, it's something that makes you feel great, it's not anything that's kinda brown and lumpy."
Hamnett's return comes as Western shoppers increasingly demand clothing made without sweatshop or child labor and develop a fondness for environmentally-sound fabrics that are made with recycled materials or cotton grown without pesticides.
Once the domain of a few niche labels, today mainstream brands and large retailers have all hopped on the "organically made" and socially responsible clothing bandwagon.
Hamnett says she is convinced the demand for such clothing is a lasting trend and not just a passing fad because it is driven by consumers -- a voice the fashion industry can't afford to ignore during an economic downturn.
"Consumer power is finally raising its ugly head. It's like the sleeping giant that is waking up," she said.
"My experience is you try to change the fashion industry from the inside and they say "f... off" but talk to my dentist, doctor, and others and they're like 'Oh my God.' You know people are very kind-hearted."
She's also trying to convince designers that going ethical makes business sense.
She lists studies showing companies that followed ethical practices were more profitable and favored by consumers and says organic cotton adds only 5 percent to the cost of a t-shirt but raises profits for poor cotton farmers by 50 percent.
"Industry is in such a bad way, this is the only new thing they haven't tried," she says, referring to the global economic slowdown that is biting into profits at apparel houses.
"It's the new big thing."
As for critics who question designers who fly to fancy parties, stay at luxury hotels and talk about saving cotton farmers dying of hunger in Africa and India?
Hamnett says she has reinvested everything into her projects for ethical fashion and continually searches for a simpler life.
"I always thought that you could be famous by being a bad person," she said. "The challenge is to do it being a decent person."
(Editing by Paul Casciato)
© Thomson Reuters 2023 All rights reserved.