EU demand scant for non-rain forest palm oil
By Michael Hogan
HAMBURG (Reuters) - Europe's food industry is proving slow to buy palm oil certified under a new scheme as produced without destroying tropical rain forests, the head of Germany's edible oil industry association OVID said on Wednesday 9 December.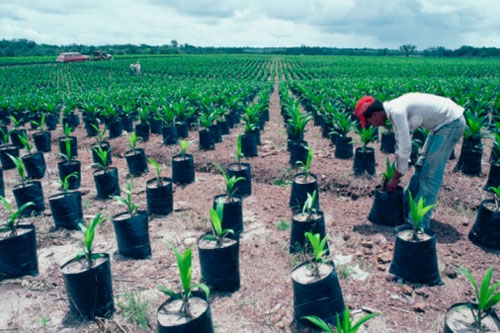 Palm Oil Farm - Belem, Brazil
Some 1.2 million tonnes of palm oil certified under the new programme Round Table for Sustainable Palm Oil (RSPO) had been produced since the scheme got underway in autumn 2008 but only 320,000 tonnes had been sold, said OVID chief executive Petra Sprick.
The rest, largely produced in Malaysia and Indonesia, is in storage tanks awaiting buyers.
"The main problem is that this product has an extra price surcharge," she said. "This is needed as an incentive to producers who face extra costs for certification."
But supermarket price wars in Germany and other EU countries intensified as the economic slowdown started as the scheme was launched. Food processors were unwilling to pay around five percent more for certified palm oil, she said.
Asian and South American countries have been criticized by European environmentalists for expanding production of palm oil, an important edible oil and cosmetics ingredient, by cutting down tropical rain forests.
The RSPO, combining palm producers, processors and environmentalists, launched a scheme to certify palm oil as not being produced on former rain forests and the first certified shipment arrived in Europe in November 2008.
BRITISH AND SWISS PURCHASES
Purchases of certified palm oil so far have been focused on Britain and Switzerland. Germany and other European countries lag behind, she said.
"The retailing sector in the EU is intensely competitive and it is sometimes impossible to impose even tiny price rises without loss of business," Sprick said.
Non-EU member Switzerland had a semi-protected food market and moderate price rises could be implemented without losing business, she said. Britain's retail market also differed from continental Europe and public awareness of sustainability issues was higher.
"The price problem is especially difficult in Germany where discount retailers sometimes sell under their own purchasing price," she said. "Even a few cents on costs are critical and food processors are fearful of making the first move."
OVID, a member of the RSPO, will press for an advertising and promotional campaign to achieve greater European public awareness of the certified palm oil label, said Sprick.
This would create an added-value which shoppers could be willing to pay for.
Furniture makers had achieved higher prices for products labeled as coming from non-rain forest wood and similar efforts must be made for food with certified palm oil, she said.
(Reporting by Michael Hogan; Editing by Keiron Henderson)
© Thomson Reuters 2022 All rights reserved.