EU says Pakistan must wait for trade breaks
By David Brunnstrom

BRUSSELS, June 4 (Reuters) - The European Union told Pakistan on Friday 4 June it could gain increased access to EU markets in one to three years but ruled out immediately granting Islamabad new trade concessions.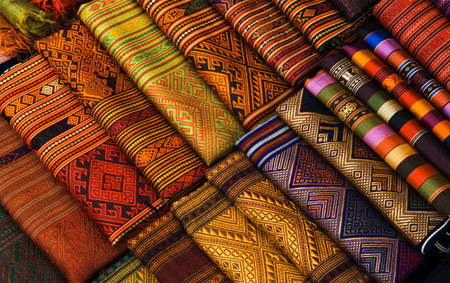 Photo : Jeremy Horner/Corbis
European Commission President Jose Manuel Barroso said after talks with Pakistani Prime Minister Syed Yusuf Raza Gilani that World Trade Organisation rules prevented the bloc from offering concessions to a single country.
"I believe that we can, if we work properly, in a relatively short period, one to three years ... advance in terms of market access to the European Union," Barroso told a news conference.
"We need to have an agreement for any kind of preferential agreement on trade -- indeed any agreement on trade -- not only of all (EU) member states but also the European Parliament."
Some products from Pakistan enter the EU market
duty free
or at a reduced rate but textile products such as bed linen and towels, which represent more than 65 percent of Pakistan's exports to the EU, still face a 12 percent tariff.
The EU has pledged to boost economic ties with Pakistan to support its struggle against militancy but some member states such as Italy which have competing textile industries have opposed reducing tariffs in that area.
The two sides did agree on a five-year plan to strengthen political, security, economic and development cooperation.
But Gilani had said this week he wanted more trade breaks from the 27-country EU, Pakistan's largest trading partner, and that he would push for a start of negotiations on a free trade agreement leading to a complete removal of trade barriers.
Islamabad has been seeking benefits under the EU's Generalised System of Preferences Plus status, which would allow more duty- and quota-free exports to Europe. The EU is a huge market, with more than 500 million people.
EU diplomats said discussions on a possible start of free trade talks were not "off the table," but Islamabad needed to do more by creating competition and regulatory authorities.
More than 20 percent of Pakistan's exports go to the EU and two-way trade was more than 7 billion euros in 2009.
Under the agreement to boost political and other ties, Barroso said that for the 2011-13 period the EU would boost its development funding to 75 million euros ($91.40 million) per year from 50 million annually.
It will also provide 69 million euros for a trust fund for the insurgent-troubled northwest of Pakistan.
Pakistan, which joined the U.S.-led campaign against Islamist militancy after the Sept. 11, 2001, attacks on the United States, has been struggling with a homegrown insurgency.
Last year, EU member states pledged more than 149 million euros ($183 million) in emergency aid to help 1.4 million people displaced by fighting in the northwest of the country.
© Thomson Reuters 2021 All rights reserved.