Euro zone retail sales drop, point to weak demand
May 4 - Euro zone retail sales fell sharply in March, data showed on Wednesday, indicating that rising food and energy prices were curbing household demand and that economic recovery was still mainly industry-driven.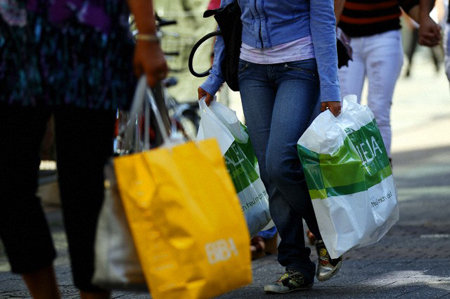 Women carry shopping bags in a pedestrian zone in Cologne, Germany
The European Union's statistics office Eurostat said retail sales in the 17 countries using the euro fell 1.0 percent month-on-month in March for a 1.7 percent year-on-year drop.
Economists polled by Reuters had expected a 0.1 percent monthly rise and a flat year-on-year reading.
The March year-on-year decline in the sales figures, which are a good indication of household demand, was the biggest since November 2009, when they fell 2.4 percent in annual terms.
"Even allowing for the fact that retail sales were likely dragged down in March by the later Easter in 2011, the drop is disappointing, given the importance of consumer spending to growth prospects and the fact that it has been fragile through the euro zone's recovery so far," said Howard Archer, economist at IHS Global
Insight
.
"If the euro zone is to see sustained, decent growth in 2011, it needs consumers to increasingly step up to the plate. And worryingly, euro zone consumer confidence fell for a second month running in April, to be at a nine-month low," he said.
But Eurostat also revised upwards the retail sales data for February -- to 0.3 percent monthly growth from a 0.1 percent decline and to a 1.3 percent annual rise from 0.1 percent.
"Retail sales now would be slightly down on the quarter, but then retail sales are the most volatile numbers, and are often revised more than once, so we should take them with a pinch of salt," said Carsten Brzeski, economist at ING bank.
The data was unlikely to have an impact on the European Central Bank's monetary policy, he added.
The ECB meets on interest rates on Thursday and economists will be watching for indications that the bank would aim for a rate rise in June, rather than in July, to stem a rise in consumer prices, fuelled by more expensive oil.
"The weakness in private consumption does not come as a surprise if you see that inflation has been picking up -- energy prices and food prices. Consumers are the first to feel that," Brzeski said.
"If anything, the numbers would point to a deflationary impact from the higher food prices and energy, but this was known already last month and the month before and the ECB still started its tightening cycle," he said, referring to the ECB's April rate rise.
Eurostat said the biggest monthly decline in retail sales in the euro zone was in Portugal, where the government is implementing a tough austerity programme to regain the confidence of financial markets. Sales volumes were down 4.7 percent from February.
The second biggest monthly drop, of 3 percent, was in Slovenia and the third biggest, a fall of 2.1 percent, was in the euro zone's biggest economy, Germany.

(Reporting by Jan Strupczewski, editing by Rex Merrifield and Toby Chopra)
© Thomson Reuters 2023 All rights reserved.