Exhibit lifts the skirts on feminine footwear
By Natalie Armstrong
TORONTO (Reuters Life!) - Centuries before Sarah Palin and Michelle Obama were sized up over their shoes women's feet had been a platform for showing off their economic and political status.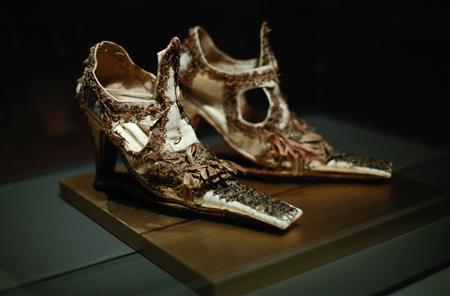 A new exhibit of more than 60 pairs of rare platform and high heel shoes shows how extreme and impractical footwear became a fashionable symbol of social standing in the 16th and 17th centuries.
"This really is a once in a lifetime opportunity to see these truly incredible pedestals that women walked on," said Elizabeth Semmelhack, senior curator at the Bata Shoe Museum.
The exhibit, "On a Pedestal: From Renaissance Chopines to Baroque Heels", includes footwear on loan from 11 international museums. It will be open until September 20.
"The shoes themselves, because they were hidden under women's skirts, were not even visible at the time. When you go and look at Renaissance painting you see these incredibly tall women but you can't see the chopines," said Semmelhack.
"We're lifting the skirts of these women and letting you see these accessories that link very closely to economics, gender and politics -- not just high fashion."
The chopine platform shoe is a columnar shape that "rises the wearer up as a single unit," according to Semmelhack. A pair of Venetian chopines in the exhibit is nearly 20 inches tall.
She said the shoes of upper-class women and courtesans rose to unprecedented heights in Italy and Spain during the 16th and 17th centuries. They were used to display family wealth, especially in Venice and Florence where the textile industry was important.
LOFTY HEIGHTS
The taller the platform shoe, the more dress fabric needed and the wealthier the family, she explained.
"Excessively high chopines in Italy offered the opportunity for more fabric to be displayed but it also offered the opportunity for servants to be displayed," Semmelhack said.
"Women wearing excessively high chopines could not manage to walk without the assistance of at least two servants. In fact, the reason why men still offer women their arm today dates back to when women wore chopines and needed that little extra help to be able to go forward."
She described 16th-century Italian chopines as "a form of foundation garment, the same way corsets used to be worn in the 19th century or women wear Spanx (underwear) today to reshape their body. They were a form of footwear that was not meant to be seen so much as to elongate the body."
But in Spain chopines peeked out from under skirts.
"Spanish chopines tend to be excessively decorated, very visible, very flashy, much more equivalent to a pair of Manolo Blahniks today than the Italian chopine which was completely concealed and not as decorated," said Semmelhack.
By the 17th century the chopine was replaced by the high heel after explorers discovered new routes between Europe and the East and Venice became less important.
"That's where I explore the history of the introduction of the heel into western dress and the shifts to England and Spain as the most important countries and eventually ending with France," Semmelhack said, adding the political connection between England and Persia increased interest in the heel.
Men also embraced the heel in the 17th century due to influences from the near East. Except for horseback riding and a blip in the 1970s, heels have been a woman's accessory.
"They are now increasingly carrying larger burdens of expressing our wealth, and our femininity and our sexuality," Semmelhack said.
"It can also be related to socioeconomic status and the fact that everyone has two feet means it is a huge business."
The Bata Shoe Museum, home to 13,000 pairs of footwear worn over the past 4,500 years, examines the social and cultural life of people through footwear.
(Editing by Patricia Reaney)
© Thomson Reuters 2023 All rights reserved.