Fab.com, profitable at 6 weeks old, nabs an $8M Series A
July 27 - Fab.com, a design-focused flash sale site that launched June 9, has announced an $8 million Series A round of investment led by Menlo Ventures.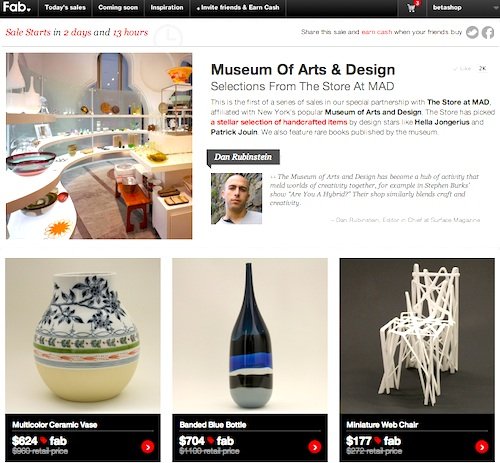 Fab.com features daily design inspirations and sales at up to 70% off retail.
Fab co-founder and CEO Jason Goldberg also told VentureBeat exclusively that the company is already turning a profit and has just hit the 400,000-user mark.
The flash sale model has turned out to be a goldmine for Fab.com, and the pigeonhole-defying mish-mash of beautifully designed stuff has been popular, as well. "Our users have really taken to it," said Goldberg, who noted that repeat buyers were "way up."
"We've been doing a lot of experimentation. We just picked out stuff that we liked and put it on the site; there was no category. Kites, bikes, speakers, gadgets — we've been learning what sells, and we've been surprised. Our number-one selling products were outdoor planters. And we sold tons of maps — what a shocker."
The one and only section you won't see on Fab.com, Goldberg said, is apparel. "We don't have any ambition in the fashion category. That's more about liquidation; our model is more about opening a new channel for suppliers."
With business booming, Goldberg said Fab was "getting attention from more than 20 investment firms." In addition to Menlo, firms and angels participating in the round include First Round Capital, Baroda Ventures, The Washington Post Company, SoftTech VC, SV Angel, Ashton Kutcher and Kevin Rose.
The new funding will be used to rapidly grow the company, connect with more designers, build new community features and expand the current lineup of design categories. "The intent is not to be a profitable company at our current revenue," said Goldberg, "it's to be a profitable company with much more revenue, millions of users, multiple platforms and more innovation around buying online. I think we're at the beginning of an ecommerce opportunity."
Goldberg actually started working on his company more than a year ago. He launched one idea, Fabulis, a social network for gay men, in June 2010. Fortunately for queer folks and not-so-fortunately for Goldberg's startup, cultural acceptance of LGBT people was leading to "a negative impact on the demand for our services," as the entrepreneur said at the time.
Then, as he phrased it, "We did the mother of all pivots — we restarted the company with a million in the bank. We just had to ask our investors to trust us.
"[Chief creative officer] Bradford [Shellhammer] and I spent about a month deciding whether we wanted to go in a different direction [from Fabulis]. His background is in design, and mine is in building websites. I said, 'Let's just take the two things we're really good at and put 'em together.' It was just nervous excitement; we've never looked back once we decided."
© Thomson Reuters 2023 All rights reserved.