Faberge new jewellery collection more conventional
By Eric Onstad

LONDON (Reuters Life!) - Revived luxury firm Faberge will release a new collection of more conventional jewellery after some customers who saw its initial mosaic-style artistic pieces worth up to $7 million asked for bigger gems.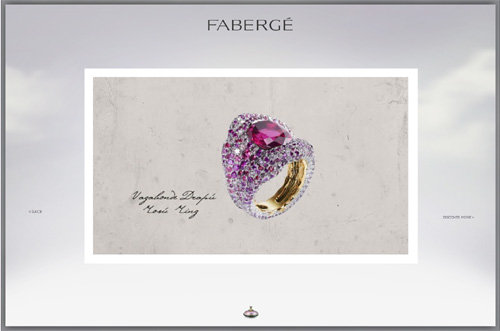 www.faberge.com
The private firm -- whose namesake designed jewel-encrusted eggs for Russian Tzars -- launched last September in an attempt to challenge giants like
Bulgari
, Tiffany and
Cartier
.
French boutique jeweller Frederic Zaavy who designed the launch collection used hundreds or thousands of tiny gems on each piece to create mosaic effects.
"The second collection is slightly more conventional. If you walk up the street and look in the windows, it would be closer to that," said Brian Gilbertson, chairman of private equity firm Pallinghurst Resources that owns about half of Faberge.
"We've had feedback from some parts that, 'These are amazing pieces, but I want that big diamond stuck in it like my mother had'," he told Reuters in an interview late on Tuesday 20 April.
""You really need to get into that area too, classic pieces like tennis bracelets with diamonds or diamond earrings."
The second collection is going into manufacture and is due to appear in a couple of months.
He declined to say how many of the initial collection of 132 pieces have been sold, but said there have been sales throughout the world. They ranged in price from $40,000 to $7 million.
"Broadly, it's proceeding as we had anticipated it would proceed."
ONLY ONE BOUTIQUE
Faberge aimed to break into the competitive luxury goods market with limited investment by luring the wealthy to its website then consummating sales with private showings.
"As far as I know, no one has bought a piece just from the Web, but sales have clearly been made from the Web introduction," Gilbertson said.
Instead of building an expensive network of shops, it has only one boutique in Geneva and sends its sales force out across the globe to hold invitation-only events and showings.
The strategy echoes how the company's namesake Peter Carl Faberge operated with so-called "trunk shows", setting up in a top hotel and inviting clients to view his works.
The original Faberge company was founded in 1842 and gained fame for designing elaborate jewel-encrusted eggs for Russia's Tsars.
Pallinghurst bought the Faberge brand from
Unilever
in 2007 and launched a revival of the name which had been used to market mainstream cosmetics like Brut men's fragrance. (Editing by Paul Casciato)
© Thomson Reuters 2023 All rights reserved.